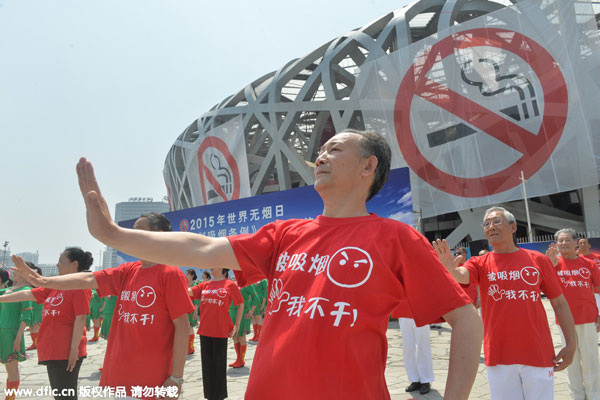 Square dancers perform in front of anti-smoking banners displayed on the Beijing National Stadium, also known as the Bird's Nest, on World No Tobacco Day in Beijing, May 31, 2015. [Photo/IC]
China's Internet users have amusingly nicknamed residents of Beijing's Chaoyang district (or acronym BJCYQZ in Chinese pinyin) as the "fifth largest intelligence agency" in the world after the Central Intelligence Agency in the US, the Committee of State Security (KGB) in the former Soviet Union, Mossad in Israel and Military Intelligence 6 (MI6) in the UK.
The largest among Beijing's eight districts in terms of both land area and number of residents, the eastern Chaoyang district was home to 3.84 million people by the end of 2013, according to the latest statistics.
Then how good is BJCYQZ at collecting intelligence? Who are they? What has turned them from common people into capable intelligence workers?
How good is BJCYQZ at collecting intelligence?
"A Chaoyang resident came to our drug control team this January, reporting the unusual behavior of one of his neighbors. The neighbor was reportedly behaving much like a drug user as he was sneaking around, staying at home in daytime and going out at night or sometimes staying up all night," said Li Jiangbo, the deputy-director of the drug control team of the district police station.
We followed the tip and discovered more than 30 grams of ice at the neighbor's house and also two of his suppliers, added Li.
In April, 12 foreign drug users were detained and a foreign drug dealing network was busted based on the intelligence provided by a resident in Chaoyang
Ahead of the International Day Against Drug Abuse and Illicit Trafficking this year in June, the police located two suspects and then confiscated one kilogram of ice after receiving anonymous tips from a Chaoyang resident claiming that someone was using a specific express delivery firm to deliver massive amount of drugs.
What's more, a number of high-profile Chinese celebrities were found using drugs by the police all based on tips provided by BJCYQZ or residents in Chaoyang, according to the official notices issued by the police. See more by clicking (Chinese celebrities caught with drugs)
Besides drug control, residents in Chaoyang have also tipped the police about celebrities buying sex resulting in the arrest of famous micro-blogger Charles Xue (whose nickname is Xuemanzi) and well-known Chinese actor Huang Haibo.