China to exhibit energy expertise at Astana World Expo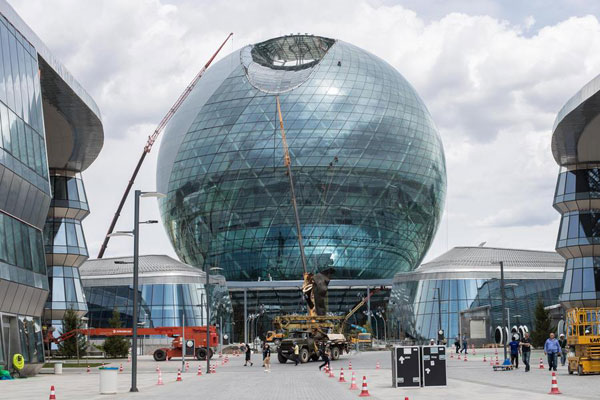 Preparations for the World Expo 2017 in Astana, Kazakhstan, June 6, 2017. [Photo/Xinhua]
BEIJING - The World Expo in Astana, featuring the theme "future energy," will open in a few days and China, which hosted the 2010 World Expo in Shanghai, is set to demonstrate its experience in both energy and expos.
The Chinese pavilion, with the theme "Future energy, green Silk Road," covers around 1,000 square meters and is among the largest at the expo, according to the China Council for the Promotion of International Trade.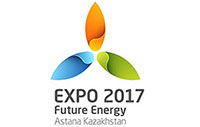 The Chinese pavilion will display the country's achievements in developing and using energy through multimedia, virtual reality technology and other means.
A simulated high-speed train cab and a nuclear fusion reactor described as an "artificial sun" are among the exhibits showing China's pursuits in exploring future energy.
During the three-month expo, the Chinese pavilion will hold more than 200 activities involving over 2,000 enterprises. They include 30 international activities, such as the China-Kazakhstan Energy Cooperation Forum.
China has also built a World Expo Museum (WEM) on the former site of the 2010 Shanghai World Expo.
The museum is the only official museum and documentation center in the world entirely dedicated to Expos and authorized by the Paris-based Bureau International des Expositions (BIE). It is also the first museum in the world to showcase the history of the development of World Expos.
"After the formal opening ceremony in July, WEM will embark on an ambitious programme of partnerships and exchanges with cultural, diplomatic and educational institutions. This path exemplifies the values of cooperation and engagement with civil society, values that lie at the heart of Expos," said Dimitri Kerkentzes, deputy secretary general of the BIE.
The museum will also hold a 630-square-meter exhibition at the Astana Expo.
"The purpose of the museum's exhibition is to communicate with other countries and various international organizations, said Liu Xiuhua, curator of the WEM.
Since the Shanghai Expo, China has taken part in the 2012 World Expo in Yeosu in the Republic of Korea and in the 2015 World Expo in Milan, Italy.
Chinese experience is enriching the history and future of the World Expo, said Vincente G. Loscertales, secretary general of the BIE.