Taking relay to the next level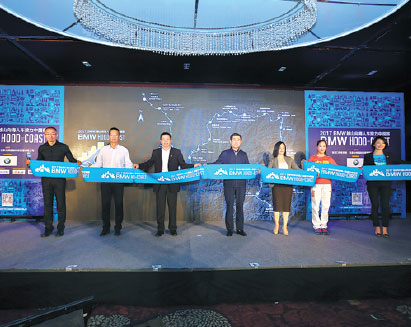 Organizers and sponsors are readying for the Hood to Coast China relay, which will take place July 8-9 at Winter Olympic co-host city Zhangjiakou in Hebei province next month. Provided To China Daily
Long-distance race H2C China heads to Hebei
With running becoming one of the nation's most popular mass-participation sports, China is now hosting more than 300 long-distance races annually.
The latest addition is the BMW Hood to Coast China relay - aka H2C China - a 175.8 kilometer day-and-night competition set for July 8-9 that promises to be one of the more challenging and scenic events on the calendar.
The race is being presented by Starz Sports, a company owned by basketball legend Yao Ming.
Starting at Genting Resort, a skiing venue near 2022 Winter Olympics co-host city Zhangjiakou, Hebei province, teams of runners will traverse stunning mountain terrain en route to the picturesque grasslands of Zhongdu, Zhangbei county.
The original Hood to Coast Relay, founded in 1992, takes place in the US state of Oregon in late August, traditionally on the Friday and Saturday before the Labor Day weekend.
It is one of the longest and largest relays in the world, with 18,000 participants (including the Portland to Coast walk relay and a high school challenge relay).
Teams from 37 countries are comprised of 8-12 runners, with the 319km course starting from the top of Mount Hood in Oregon and finishing on the sandy beaches of the Pacific Ocean.
The race has a waiting list of 40,000, while the relay has sold out on the first day of registration for the past 25 years.
"Hood to Coast has a passionate following that many say is a 'must experience' at least once in a lifetime," said Felicia Hubber, president and race director of the Hood to Coast/Portland to Coast relays.
"I believe the Hood to Coast will have a strong following in China in the near future. And the experience of Starz Sports will make Hood to Coast a popular running event there."
After the success of hosting two "Yao Pao 24-Hour" events, Starz Sports was ideally positioned to import the franchise, and Hood to Coast has authorized Starz Sports as its sole event organizer in China.
In the future, Starz Sport is planning to expand its running portfolio and hold up to 40 events that are expected to attract around two million people over the next three years.
Announcing his company's the partnership with Hood to Coast last year, Yao said: "It could be love or because of our belief that keeps us participating in a sport for a period of time. This sport gradually becomes our lifestyle, and this lifestyle is also going to become part of our character.
"Our character is what will lead us to where we want to be."
yangxinwei@chinadaily.com.cn
Most Popular
Highlights
What's Hot