New standards to boost upgrade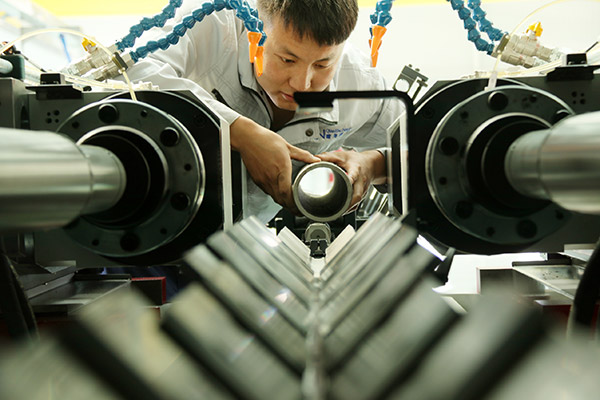 A worker processes components for a power generation unit in Xuanhua, Hebei province. [Photo/China Daily]
China unveiled two national standards on Wednesday, to guide enterprises to efficiently leverage information technology in industries, as the country steps up efforts to boost the competence of its sprawling manufacturing sector.
The two standards, released by the Ministry of Industry and Information Technology, outlined how to boost the integration of informatization and industrialization management systems.
The move aims to help enterprises lower operating costs and boost productivity. It is the latest move by China to push forward the Made in China 2025 strategy.
Xie Shaofeng, director of the ministry's information and software service division, said: "The standards will guide companies to take sustainable competitive advantages in the internet era, gaining new capabilities, such as improved technologies and the ability to analyze the collected data."
The new standards will pave the way for companies to use information technology, such as big data and cloud computing, to promote the development of data distribution, and then secure a foothold in the future market.
Zhang Feng, chief engineer of the MIIT, said more than 4,300 domestic companies had tested the standards in recent years. As a result, their operating costs dropped by 8.8 percent on average, and their profits increased by an average of 6.9 percent.
Fu Gang, deputy chief information officer of China Railway Rolling Stock Corp, said implementation of the standards had optimized the firm's organizational and management system.
"Guided by the standards, we've sorted out and optimized our internal management system, and integrated the standards into our existing management standard systems. In the future, we will explore more new modes with the focus on smart manufacturing, technological improvement and internet plus."
By the end of 2016, CRRC had established the assessment system and working platform for the integration of informatization and industrialization, which helped collect, analyze and assess the data online.
Wang Angeng, member of the Advisory Committee for State Informatization, said: "Companies can implement the standards, and then perfect the strategies that work best for them. This will help fix problems, such as clarifying each one's responsibility and promoting connectivity."
Zhou Jian, secretary-general of the China Service Alliance for Integration of Informatization and Industrialization, said the new standards will help firms boost productivity.
"Previously, those companies relied more on land, investment and labor. Instead, today technology and data play more important roles."
In 2016, the MIIT issued a development plan for the integration of informatization and industrialization (2016-20). It was expected that 30 percent of companies would enter the stage of enhanced integration and innovation by 2020.
Ma Si contributed to this story.