In today's trending, criticism lights up Chinese social media when a photo of a breast-feeding mother is posted, Hong Kong residents who thought they were under a shower of "diamonds" discover artificial gems and a man who climbed a utility pole after a fight with his girlfriend touches live wires with serious results.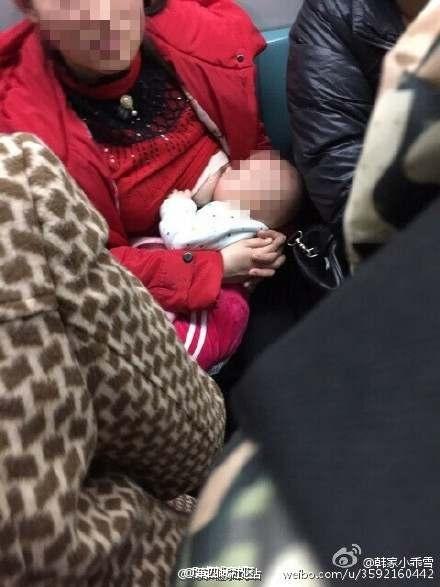 This photo of a woman breast-feeding her child attracted much criticism when it was posted to the Weibo account of bjtale.com. [Photo/weibo.com]
Breast-feeding in subway stirs controversy
A non-profit organization that described breast-feeding on the subway as the same as "exposing sexual organs" has come under fire.
According to thepaper.cn, the NGO, Beijing Tale, posted on its Weibo account a photo of a woman in a red coat breastfeeding her baby on a crowded subway carriage on Sunday morning.
The NGO said it didn't take the picture – in a letter of apology published on Sunday after deleting the tweet –and later decided to temporarily close its Weibo account.

The original photo was taken and posted by a woman, 24, who said she was a graduate of Beijing Jiaotong University, according to her social media profile.
An official from the company argued it simply shared the posts of others, and that they wanted to initiate discussion about whether it is suitable to breast-feed in the subway without covering up.
A related thread posted by People's Daily was retweeted more than 10,000 times with more than 30,000 comments.
One of the top-voted commentators wrote, "This [breast] is baby's granary, not a sexual organ!"
Many posts criticized the NGO for discriminating against breastfeeding woman.
Others expressed anger at the woman who took the photo. One comment, which was reposted more than 8,000 times, called the photographer "a poisonous tumor of society".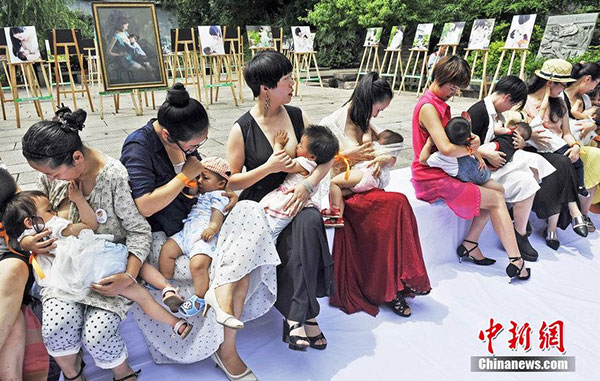 Mothers promote breast-feeding in Fuzhou, East China's Fujian province, May 16, 2015. [Photo/Chinanews.com]
In our next story, an unexpected shower of false treasure excites Hong Kong.