Children celebrate graduation in swim suits, carbon dioxide kills farmers, and grandson turns out to be son.
Carbon dioxide kills farmers
Five farmers have been killed by carbon dioxide accumulated at the bottom of a mountain in East China's Anhui province, local government said Thursday.
After these farmers began dying one after another on June 27, local government officials in Qimen county requested professionals from three universities to visit the scene to investigate the cause.
The experts discovered that the place was filled with carbon dioxide when the farmers died. Between June 26 and 27, it was rainy and cloudy, and the lack of sunshine resulted in the increase in carbon dioxide that plants had created. Since carbon dioxide is heavier than the atmosphere, a large amount of it got accumulated at the bottom of the mountain.
Related:
Harvest brings little joy to melon farmers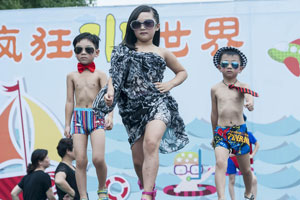 Kindergarten pupils strut on runway in swim suits
Children put up a swimming suit pageant at a kindergarten Friday to celebrate graduation from Changtian Kindergarten in Wenling of East China's Zhejiang province.
Related:
Kindergarten equipment show opens in Beijing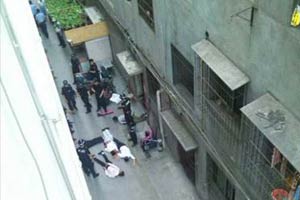 Sellers of pyramid schemes attack police
A group of people allegedly selling pyramid schemes, or fraudulent plans, attacked police in Lizhou district of Guangyuan city, Sichuan province, on Friday, leaving three officers injured, people.com.cn reported.
After police was informed that some people were touting schemes aimed at duping people in the district, three policemen were dispatched to the scene. However, some of the sellers led the officers to a room, locked the door and attacked them. The policemen, who were badly injured, were rescued when reinforcements arrived.
Some of the suspects have been arrested and the case is under investigation.
Related:
Chengdu police: Come and join us!

Grandson son of 'grandpa'
A grandson has turned out to be the son of the "grandpa" and his daughter-in-law after a DNA test was carried out, Qianjiang Evening News reported.
The "grandma" had long suspected that there was some "special" relationship between her husband and her daughter-in-law, but never expected that her "grandson" was their child. It was only when DNA verification was conducted that the truth came out.
Related:
Study finds DNA and marriage link

Boyfriend turns out to be fugitive
A woman who wanted to get rid of her annoying boyfriend called the police and claimed that he was a fugitive. Surprisingly, after the police made inquiries, he was actually found to be on the wanted list, Qianjiang Evening News reported Friday.
The man, surnamed Chen, was on the run after allegedly blackmailing people of 28,000 yuan in 2003 and his name was there on the list of the most wanted by Yuhang police in eastern China's Zhejiang province.
Related:
Reasons for not being friends with ex boyfriend or girlfriend