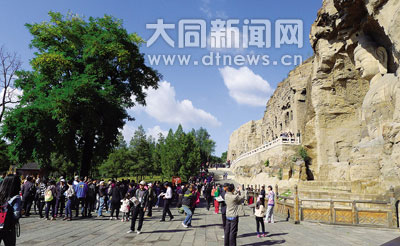 People throng to the Yungang Grottoes, in Datong, on Oct 2. [Photo by Yu Hong/China Daily]
The city of Datong, Shanxi province, saw around 3 million tourists from China and abroad coming for a visit during the National Day holiday, and bringing in more than 1 billion yuan ($160 million) in revenues, according to the tourist bureau.
To ensure that the city would be successful in entertaining visitors during golden week, the entire city government did a lot of careful preparations, which is expected to bring it greater fame among tourist cities in China.
Fortunately, the cold weather did not put a stop to people's enthusiasm for this historic city and, since cars could use the national highways free of charge during the holiday, the city saw a surge in the number of tourists who drove themselves. Many came from surrounding areas, such as the cities of Beijing and Tianjin, Hebei, Henan, Shaanxi and Shanxi provinces, and the Inner Mongolia region. Many said they have traveled to Datong more than once.
Before the holiday, the city planned ahead and did an overall refurbishment of tourism facilities and services, with the tourism bureau doing a check of all tourist sites to ensure food safety, accommodations, and pathways. And there were security precautions, more road signs and the traffic controls during peak hours as well as more activities and tourism products to meet of the needs of different tourists.
Edited by Roger Bradshaw