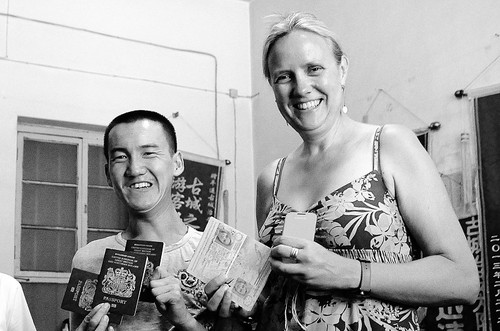 Carolyn Forsyth and Cheng Taojie hold British passports that were among items in a bag she had mislaid but was found by Cheng, Aug 4, 2014, in Pingyao, Northern China's Shanxi province. [Photo/pyonline.net]
Cheng Taojie, a peddler selling sun hats at tourist spots in the ancient city of Pingyao, Northern China's Shanxi province, picked up a bag containing a cellphone, cash, credit cards and a family's passports, on August 4 and handed it in to police.
The 27-year-old was running his business around 8 am when he found the pink bag lying at the foot of the city walls. He checked the contents and knew immediately that the owner must be very worried. He left his stall for the nearby police station, with his mother Wang Runhua.
The story became more heart warming when police learned from Wang that her son has suffered a speech impediment since early childhood due to neonatal cerebral palsy. Cheng started his business at the age of 16 and his mother has to accompany him wherever he goes.
The police made a list of items in the bag and found a hotel reservation note in Chinese. They contacted the hotel and got in touch with the foreign family. About two hours later, the owner arrived at the police station with the hotel interpreter.
Carolyn Forsyth, a British tourist from Manchester, England, had been with her husband and two children in Pingyao that morning. She realized her bag was missing when she was about to pay their breakfast bill at a local café. Carolyn said she was worried and that they had been searching for her bag before receiving the good news from the hotel.
When she learnt it was Cheng who had handed in her bag she kept saying "thank you" and asked to take a photo with him. She said she wants her family to remember him, and that through her travels she knew Pingyao people have good characters.