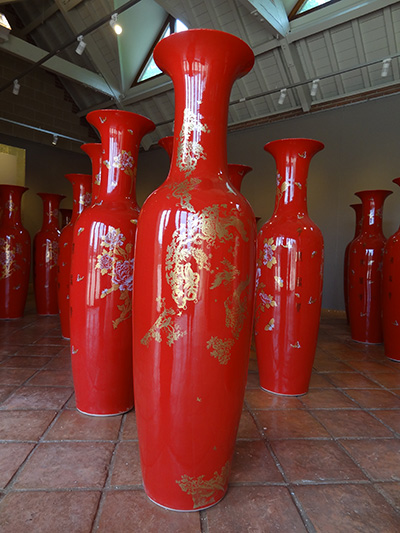 Vases made by Clare Twomey [Photo provided to China Daily]
An exhibition that was inspired by the beauty of a 13th-century Chinese bowl is proving a big hit with visitors in the UK.
Made in China, an installation by British ceramic artist Clare Twomey, is currently on display at The Harley Gallery at Welbeck in Nottinghamshire.
It features 79 giant red and gold vases made by a factory in the Jiangxi province city of Jingdezhen, renowned for its pottery, and just one made by Royal Crown Derby, the Derby-based UK manufacturer.
The exhibition aims to contrast Chinese and British manufacturing methods and techniques.
Twomey, 47, got the idea for the work while working as an artist-in-residence at the Victoria and Albert Museum in London.
"There was a display that was examining what was happening in terms of ceramics in both Europe and China in the 13th century," she said.
"There was this beautiful bowl made in Jingdezhen that exemplified the wonderful skills that existed in China. The things being made in Europe at that time did not have that incredible delicacy."
Twomey came up with the idea for an installation that would contrast what was now being made in Jingdezhen, still a center of ceramic manufacturing, and in Europe.
She searched the internet for a manufacturer in Jingdezhen that could make something for her that was typical of today's production.
"I found this manufacturer that made big vases. We agreed on a surface design that was one of a plethora of standard designs they offered. I acted like I was a hotel or any other purchaser and asked them to make 80 of them. They said they could make them in just three weeks," she said.
"It was clear I don't actually want to go to Jingdezhen and fall in love with the place as I might have done in the 13th century to see who was making what. Part of the conversation of the installation was to reflect the modern world and do everything virtually on the internet."
Meanwhile Twomey asked for blank vases from the Jingdezhen factory, which she could have decorated in the UK to show a contrast with European techniques.