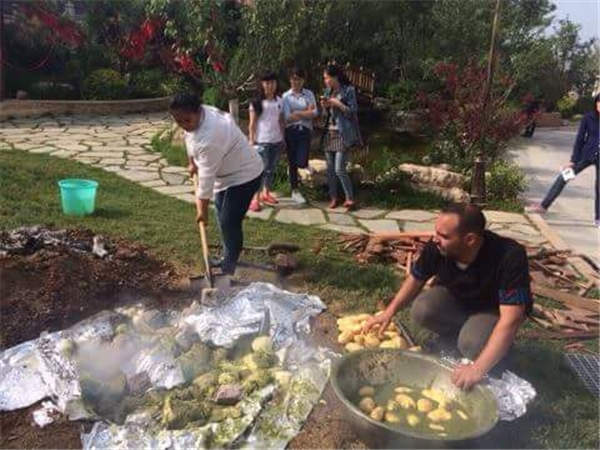 A Yantai barbecue in Shandong province features exotic Peruvian produce. Photo provided to China Daily
One of the goals of the Global Center of Gastro-diplomacy, founded recently by Guillermo Gonzales Arica in Honduras and Peru, is to promote Peruvian cuisine in China and encourage exchange and fusion between our regions.
"We began this effort with the first Peruvian Chinese pachamanca (a typical Andean food preparation from Peru) at the 2015 Gourmand Awards event in Yantai, China," he says.
The center will invite guest chefs to come and perform similar culinary presentations in Yantai in East China's Shandong province during this year's event in August, and invite Chinese chefs from Beijing to visit Lima.
Gonzales will also be at next month's Beijing International Book Fair, presenting his award-winning books (currently in Spanish and English) on how countries can make friends with their food.
In reality, Chinese immigrants have been doing that in Peru for a long time.
"The 'Chifa' restaurant cuisine is very famous and loved in Peru," he says. "It is the fusion of Cantonese culinary tradition from China and Peruvian local food. You can find a Chifa restaurant in each block of the main streets of the principal Peruvian cities, including Lima, our capital."