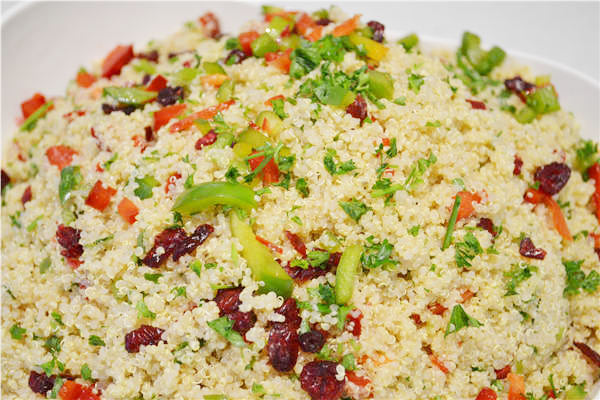 The high-protein grain quinoa is finding its way to some of the world's trendiest restaurant plates. Photos provided to China Daily
As Peru prepares to celebrate its national day next week, a diplomat heads to China to explain how what we eat can bring people and nations together. Mike Peters reports.
When Guillermo Gonzales Arica became Peru's ambassador to Honduras, his main objective was to strengthen commercial and economic relations with that already-friendly Central American country.
He looked for help from some surprising allies: about 1,300 chefs.
"I believe that the importance of gastronomic activity goes beyond the idea of tasting diverse and marvelous flavors," says Gonzales. "It involves an economic chain of value, which begins with the farmers, the fishermen and ends in the promotion of a country brand. This chain of value represents 11 percent of the Peruvian GDP, according to studies made by the Peruvian Society of Gastronomy, APEGA."
It hasn't always been that way.
"Thirty years ago, the quinoa grain, which has a very high component of proteins, was not really well-known and consumed (even) by us," he says. "Nowadays, quinoa is used in a lot of gourmet menus inside and outside of Peru in the best restaurants. This situation benefits the farmers in Peru, who cultivate this grain specially in the Andean region of my country."
Gonzales was confident that such success was transferable to Honduras and other developing nations. He also realized it could be a collaborative tool for achieving South-South Cooperation and the 17 Sustainable Development Goals 2030 recently approved by the United Nations in the quest to eliminate poverty.
Working with the public and private sectors-and two Peruvian chefs on his embassy staff, his team trained 1,300 chefs from almost every part of Honduras in Peruvian gastronomy between 2013 and 2016.
"We developed workshops that lasted nine hours during three days, where local chefs will learn about Peruvian culinary techniques, Peruvian cocktail preparation, sanitary principles of food preparation, the best presentation of different plates and how to organize a small culinary enterprise."
At the end of each workshop, they organized a festival with each local government, inviting the small enterprises and producers of original foods product to participate.