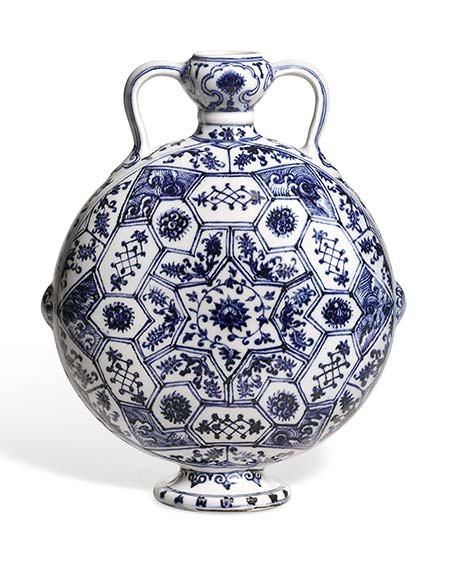 Three blue-and-white porcelains of Ming Dynasty in Pilkington's collection will be auctioned. Photos provided to China Daily
A "time-capsule" collection that highlights the British connoisseurship of Chinese porcelain and Britain's golden period of collecting Chinese art will be auctioned in Hong Kong next month. The sale hopes to attract keen Chinese mainland buyers who scout out quality, fresh cultural goods worldwide and ship them back home.
One hundred ceramics and other mixed works of art from the Song (960-1279), Ming (1368-1644) and early Qing (1644-1911) dynasties will go under the hammer at Sotheby's major spring auctions from April 2 to 6. The total estimated value is more than HK$225 million ($28.8 million).
The collection was composed by Roger Pilkington, a member of the Lancashire-based glassmaking family and one of the most active collectors in the 1950s and '60s.
Pilkington's assembly spans some 1,000 years of Chinese porcelain-making-the earliest objects in his collection date to the Tang Dynasty (AD 618-907). He ascended to one of the top second-generation collectors of Chinese art in Britain, who continued the tradition from the 1920s to the post World War II period, according to Nicolas Chow, deputy chairman of Sotheby's Asia.
"For anyone who is interested in the Chinese art market, what is important to know is that England played a central role particularly in developing the market for pure porcelain," he tells China Daily, noting that the 1921 founding of the Oriental Ceramic Society in London spurred a movement of interest in Chinese art across the country.
That interest spawned a collectors' group in the following decade that included prominent figures such as Sir Percival David (1892-1964) and Alfred Clark.