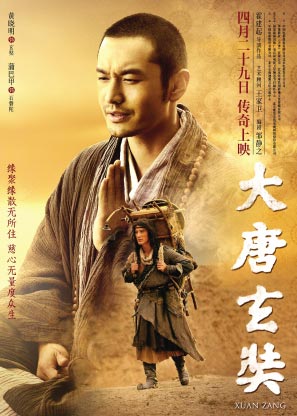 Poster of Xuan Zang. [Photo/Agencies]
An epic about eminent Chinese monk Xuan Zang will be released in Chinese theaters on April 29, one of its producers said Monday.
Xuan Zang tells the legendary story of the monk's arduous journey alone to India seeking Buddhist scriptures during the Tang Dynasty (AD 618-907). The endeavor was eventually turned into the classic fiction Journey to the West.
It took about one year to complete the filming and post-production is under way, the producer said, adding the film was set in both China and India.
Famed director Wong Kar-wai is the artistic director for the film, which is directed by Huo Jianqi, according to the producer.
Related:
Zhao Wei's second directorial work underway