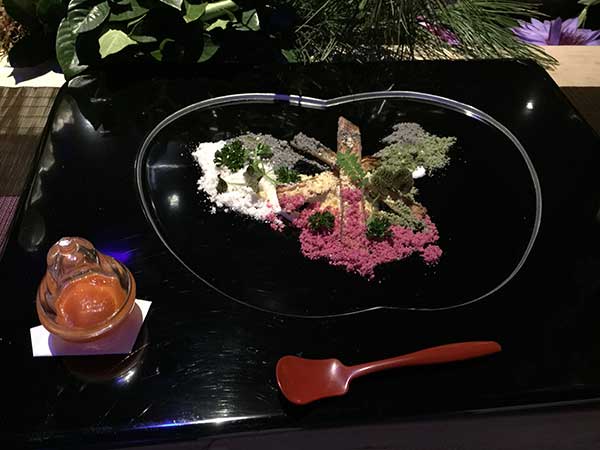 A molecular rendering of vegetables becomes a colorful out-line of China at Pure Lotus.[Photo by Mike Peters/China Daily]
A vegetarian restaurant in Beijing celebrates the food and traditions of Chinese Buddhism, Mike Peters reports.
"We are still enjoying the cool winter," says our waiter at Pure Lotus. I had been less than pleased at the chill March winds that bit through our jackets on our way to dinner, but the words I'm hearing are more metaphor than meteorology.
The plate set before me is a pile of snow: More literally, it's a mound of shredded daikon, a white nest of mildly sweet radish in which are tucked five nibbles with five different tastes: sweet, salty, bitter, sour and spicy. They represent the five elements of Chinese divination: metal, wood, water, fire and earth. From one side of the plate, a handful of branches with plum blossoms rises from the shining slivers of "snow", a promise of the spring to come.
This happy outlook is key to Pure Lotus, where Chinese Tibetan Buddhism flowers in a vegetarian menu of dishes that are as delightful to look at as they are to eat. Our appetizer, for example, has the aura of a painting thanks to vegetables gone molecular. Four veggies and yogurt are reduced to colorful, fluffy powders and shaped like a map of "peaceful China on a plate", the colors representing the five soil types of the nation with soft yogurt and toasted strips of burdock in the center.
Beautifully presented foods are only part of the picture. Staff members garbed in Tibetan silk robes guide you with lighted lanterns from the alley into the restaurant foyer. There, long strings of fresh orchid blossoms hang amid bamboo poles in a natural sculpture that's reflowered every week. We sit on a comfortable sofa and relax over tea before being escorted to the dining room.
The restaurant's heart has changed considerably since our last visit three years ago. The main dining room was once a beautiful but cavelike space, dark and mysterious, where diners struggled to read big bulky menus in candlelight.
Today the space is brighter, thanks to big candle chandeliers that give the peacock-blue walls a romantic glow. Sofas along the walls sport plush magenta cushions, and hosts and waiters glide noiselessly through the restaurant in robes of embroidered gold or blue silk. Each table has a miniature water garden running down the middle, where a few violet water lilies float amid islands of white tulips, pine branches and other greenery.
The bulky menu: Gone. In its place are a few pages of poetic fancy. There are no photos of dishes like the starter We Plan Wholeheartedly and Taste the Happiness (English translation: "East meets West tofu/mozzarella with tomatoes salad).