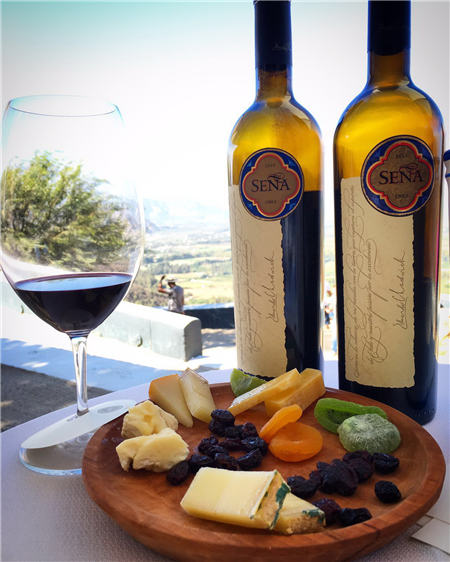 Sena means "signal" in Spanish, and a series of blind tastings were designed to send a message to the world about Chile's best wines. Photos provided to China Daily
Eduardo Chadwick has led a pioneering effort to make Chilean wines famous for quality as well as price, Mike Peters reports.
A Western meal is often served one course at a time, and you can match wines with them individually. But a Chinese meal can consist of myriad dishes, all served pretty much simultaneously. What to do?
When a Chinese journalist asks this question of Eduardo Chadwick, one of Chile's top winemakers, he says a light, simple wine "that goes with anything" is not the best answer.
"I would look for a more complex wine," he says, "one that has good fruit but also some spiciness and other flavor notes. When you do that, a savory dish will bring out certain flavors, but a spicy dish will bring out different flavors in the wine."
His answer is intriguing but no accident. The journalists gathered at the Chilean embassy in Beijing to meet Chadwick are about to sample just such a wine from his family of vineyards.
"We make a Bordeaux blend," Chadwick tells China Daily, "but with a Chilean soul". That soul has a name: Carmenere, a grape with a spicy edge that flourishes in the soils on the western side of the Andes. It gives Chilean wine blends their particular character.
Chadwick's signature wine, Sena, reflects a winemaker who shrugs off convention.
For most of Chile's 300 years of winemaking, the results were mostly consumed at home or in neighboring Brazil. However, the country has huge areas of agricultural land and a small population, which means Chile can produce a lot more wine than it can drink. Last century, the country's leaders got excited about exporting wine, but by the early 1990s, their vineyards were generating lots of bottles but not much respect. People saw and expected solid but inexpensive wines.
"Cheap and cheerful, you mean," laughs Chile's Ambassador to China, Jorge Heine. "That's been the reputation of our wines."