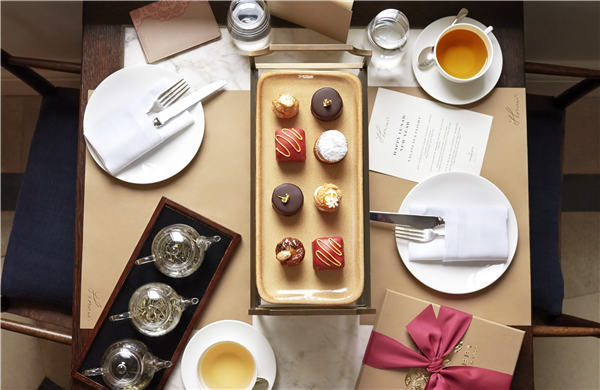 A tray of special sweets celebrates the recent Chinese New Year, but premium Chinese teas are a year-round offering at Thomas's Cafe. Provided to China Daily
"It has a floral opening, with light spice notes of anise and fennel," says our sommelier. She is not the keeper of wine but the keeper of tea, and right now we're inhaling the aroma of a vintage tea picked from ancient tea trees in Yunnan province. This is no exotic tearoom in southern China, however - we've having a late afternoon meal at Thomas's, the chic restaurant at London's flagship Burberry store. Perched atop the tea tray - above the crustless triangles stuffed with cucumber, egg salad and smoked salmon - little fantasies of red and gold marzipan shine amid a row of sweets, a bow to the just-passed Chinese New Year.
The 2010 Ancient White Buds is just one of three teas chosen from the single-batch varieties that are a specialty of London tea boutique Lalani & Co. We also sample the 2015 Himalayan Jade Oolong from Nepal ("white fruit palate, gentle floral tones") and 2015 A'A Black Tea Spring from Hawaii ("heady rose and orchid florals, raisin and dried-fruit notes").
Most visitors at the multi-story Burberry store are perusing signature trenchcoats, silk and woolen scarves, and other stylish ready-to-wear, including Lunar New Year gift assortments in special blues and pinks, as well as Burberry's classic Parade Red and flashes of gold. Scottish woven cashmere scarves can be personalized with up to three letters. We can order online, we're assured, if we can't make a decision right now.
We're scouting the store on a tour arranged through By Appointment, a service that takes visitors behind the scenes at some of London's most prestigious shops. Our stop at Burberry includes a chance to see ourselves in a high-tech virtual dressing room, where we can "wear" the store's latest goods in a computer-generated fitting.
While we're letting all that sink in, we've headed to Thomas's for a hearty tea.
Burberry's in-house restaurant, named for the store's Victorian founder, Thomas Burberry, attracts a crowd of its own. Opened last year with seating for about 200, plus event rooms, the eatery boasts an artisanal menu that perfectly refects the high-end craftsmanship of the surrounding store. London-cure salmon is sourced from a family-run fish farm between the Norwegian Sea and the North Atlantic, and hand-filleted and salted by a Norwegian fishmonger before being cold-smoked in a brick kiln over juniper and beech wood. Sutton Hoo chickens, free-range birds from the Suffolk countryside, are famed in England for their succulent meat, full flavor and crispy skin. Bacon, sausages and even butter are equally vetted from small producers with a natural approach. (The free-range pigs of the Eastleach Downs family farm, we're assured, are "fed an organic, GM-free diet, living their lives in clover".)
In the lounge by the fireside, guests can enjoy a gin-and-tonic, a bloody Mary or a Great King St. Artist's Blend Whisky for 9 pounds each ($13).
We'll be well-fortified for a late afternoon of more shopping.
If you go
Thomas's Cafe, at Burberry's flagship store, 5 Vigo Street, London, +44
(0)20-3159-1410.