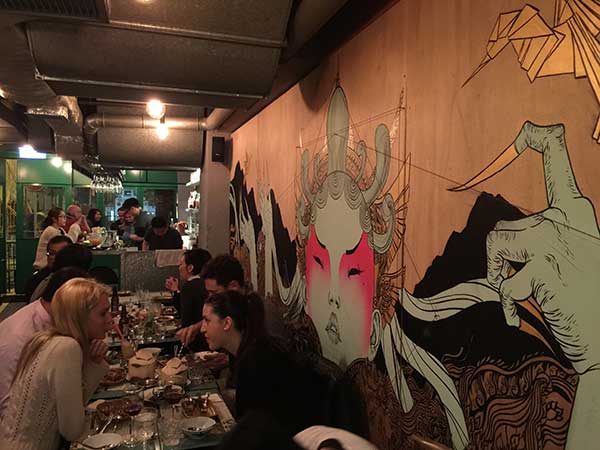 Chachawan's vibrant setting is a mix of color, taste and sound.[Photo by Mike Peters/China Daily]
There are secrets you can treasure keeping to yourself, and there are secrets that, it turns out, everyone seems to know.
In Hong Kong, the latter is the case with Chachawan, a small Thai eatery in the Sheung Wan area that looks a bit seedy at first glance. Look again, however, and a hidden gem is revealed: Expect to wait for a table on a weekend night, as seating is first-come, first-served, no reservations.
What's so special about yet another Thai restaurant?
For one, Chachawan doesn't try to do all regions of Thai under its small roof. The fare is from the Isaan area of the country's northeast, and the menu promises "a raw, down-to-earthiness about it rarely found in other regions of Thailand". The simple, clean flavors of grilled meats and raw vegetables shine through the hot and sour flavors in dishes modeled after the country's famously delicious street food.
My host at dinner is a former waiter at the restaurant. When David and I arrive I feel I'm riding the wake of a celebrity, but the friendly staff is just as chatty with other patrons, most of whom seem to be regulars.
We're seated at the last open table, nearly elbow-to-elbow with our neighbors. A rouge-cheeked deity looks down on us placidly from the mural on the wall behind us. The decor also includes vintage Chinese posters and a sign featuring a dinosaur in the shower. It's ghetto-chic, East-meets-West, artsy and gritty all at once, and somehow it comes together in hip harmony without feeling like the interior designer is trying too hard to be cool. A lively soundtrack almost overwhelms any chance for conversation but give the place the fun vibe of a college bar.