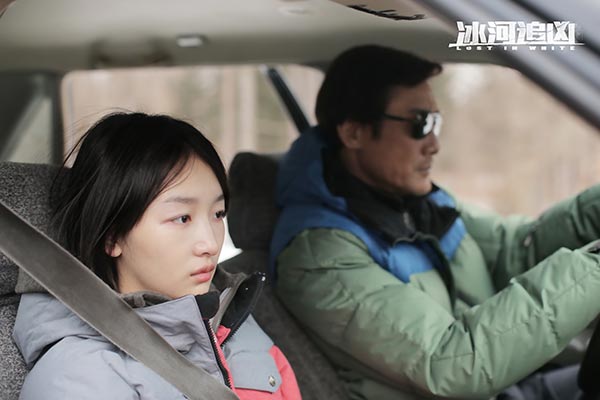 Zhou Dongyu and Tony Leung in Lost in White. [Photo provided to China Daily]
Picture an ice-covered river shining beneath the winter sunshine. The scene, which could be a picturesque attraction in real life, turns out to be a thrilling crime scene in Tony Leung Ka-fai's forthcoming movie.
Lost in White, starring Leung in the lead role, will be released across the Chinese mainland on April 15.
Leung, who shot to prominence with the French romance movie The Lover (1992), has appeared in more than 130 movies in his glittering career during the past three decades. Leung was recently in Beijing to promote the new film.
The cast also includes the mainland actor Tong Dawei, known for the 2013 comedy American Dream in China, and actress Zhou Dongyu, who rose to fame in the 2010 romance Under the Hawthorn Tree.
Set in a chilly town in northeastern China, the movie centers on a local police officer's hunt for the criminals behind two linked cases: an unrecognized body on icy river and a kidnapped villager.