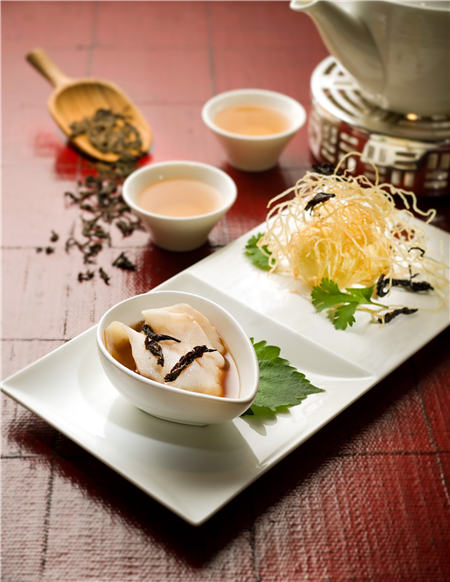 Photo provided to China Daily
Chef Paul Lau of two-Michelin-star restaurant Tin Lung Heen presents a spring tea degustation menu featuring Chinese tea-infused dishes to welcome spring, the season of rebirth, fertility and abundance. A time-honored beverage with a history dating back to the Han Dynasty (206 BC-AD 220), tea is deeply rooted in Chinese dining culture and is believed to have health benefits ranging from aiding digestion to preventing heart diseases. "Rainy and humid, spring is the best season to enjoy tea, as Chinese tea is vital in removing toxins and excess water from the body, leaving the body and mind refreshed and energized," says Lau. Inspired by their diverse and subtle aromas, he blends a selection of six different premium teas: Pu'er, jasmine, Longjing, Iron Buddha (Tieguanyin), chrysanthemum and peach, using different cooking styles throughout March and April. The sensory tea adventure starts with his deep-fried mashed potato and minced pigeon poached in Pu'er tea, and peaks with sauteed lobster with Longjing tea and yellow carrot.
Through April 30; six-course menu is HK$1,888 ($243) per person (pairing wines at an additional HK$1,000 per person); Tin Lung Heen at The Ritz-Carlton, Hong Kong; 1 Austin Road West, Kowloon district; 852-2263-2270.