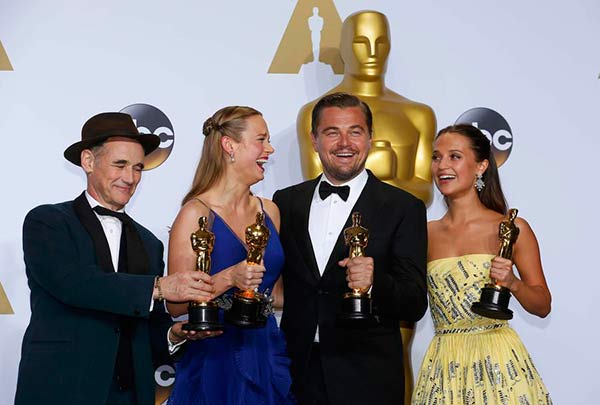 Oscar winners for Best Supporting Actor Mark Rylance, Best Actress Brie Larson, Best Actor Leonardo DiCaprio and Best Supporting Actress Alicia Vikander (L-R) pose backstage at the 88th Academy Awards in Hollywood, California February 28, 2016. [Photo/Agencies]
The 88th Academy Awards, once again thrilled people around the world, including the Chinese, who were excited about Leonardo DiCaprio winning the Best Actor award.
But the annual carnival also put Chinese filmmakers in an awkward position, as no Chinese films have ever pocketed a golden trophy. The hard truth leaves people wondering when the nation, which is already the second largest film market, will earn a place in the renowned award ceremony's spotlight.
The circumstance for domestic artists is similar to that of Chinese writers and scientists before Mo Yan and Tu Youyou won Nobel Prize in 2012 and 2015 respectively.
Just as Chinese people are accustomed to seeing their fellow citizens taking home Nobel prizes from Stockholm, it is time for them to see that winning an Oscar is also achievable.
There are good reasons to be optimistic about such an ambitious outlook.
First, China is one of the fastest growing film markets in the world, attracting abundant capital from home and abroad, which will prompt more talented people to get into the industry.
Latest statistics showed Chinese cinemas took a record 6.87 billion yuan (about $1.05 billion) in ticket sales in February, with the monthly box office overtaking that of North America for the first time.
The achievement, which may be repeated in the future, has led to speculation that China's annual box office could go on to surpass North America as soon as 2017.