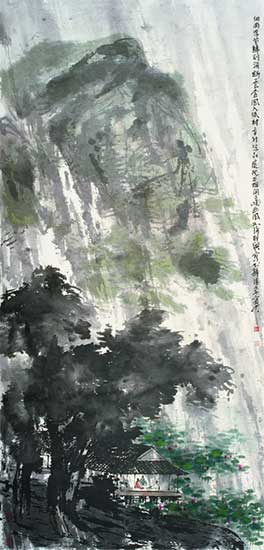 Cui's solo show in Beijing features more than 200 sets of his paintings, many of which are painted with his unique "finger-ink technique".[Photo provided to China Daily]
Cui Ruzhuo's 'finger-ink' show opens at the Palace Museum, marking a rare chance for a living artist, Wang Kaihao reports.
As a teenager, Cui Ruzhuo was engrossed in making replicas of famous artworks at the Palace Museum in Beijing.
Now 72, the contemporary artist has returned to the same venue to display his Glossiness of Uncarved Jade: Grand Exhibition of Cui Ruzhuo.
On Thursday, the grand opening of his show that runs through June 25 was held at the former imperial site, which is also known as the Forbidden City, marking a rare opportunity for a living artist.
More than 200 sets of Cui's paintings are on display in the Meridian Gate exhibition hall above the museum's main entrance.
Cui is known for reviving traditional Chinese painting with his "finger-ink technique".
The technique, which refers to the use of fingers ins
tea
d of brushes or other painting tools, was first mentioned in the Tang Dynasty (AD 618-907). Some painters of the mid-Qing Dynasty (1644-1911) used it, and celebrated painter Pan Tianshou (1897-1971) took it to a new level.
"Our predecessors tried almost every technique in traditional Chinese painting, and there is little room left for creativity," Cui tells China Daily. "However, finger ink is a way out."