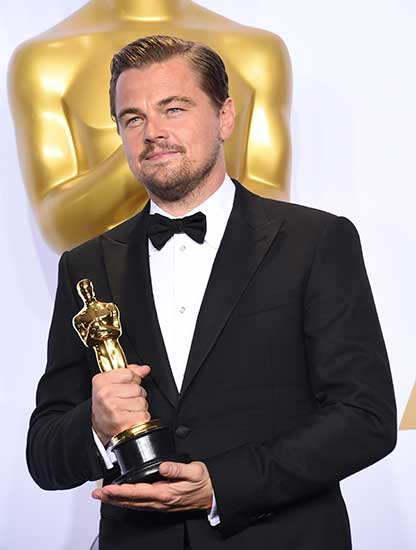 Leonardo DiCaprioaccepts theOscarfor Best Actor for themovie"The Revenant" at the 88th Academy Awards in Hollywood, California February 28, 2016.[Photo/Agencies]
Filmfans in China were elated on Monday after Leonardo DiCaprio's first Oscar win — for Best Actor — at the coveted Academy Awards.
While not many of them have seenThe Revenant, which will be screened on the Chinese mainland on March 18, they had been rooting for "Little Li", an affectionate nickname for the star, since coverage of the Oscars became routine in the country.
Chinese fans share with their peers from other countries their love and support for DiCaprio, but what sets them apartis their exclusive focus on him.
Issues such as "white dominance"at the Oscars, and even the nominated movies, received little attention in China.
DiCaprio's image as a teen heartthrob from the blockbuster movieTitanichas been indelibly etched on the minds of many fans.
They saw his later movies that were nominated, which had much narrower exposure, as outright attempts to win Hollywood's biggest honor. This reached fever pitch when he was nominated forThe Wolf of Wall Street, unleashing a barrage of appeals, both online and in mainstream media, for the Academy's recognition.