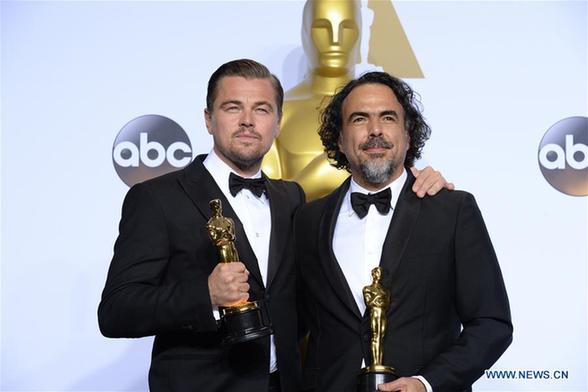 Leonardo DiCaprio (left) and director Alejandro G. Inarritu of The Revenant pose after winning the best actor and best director respectively during the 88th Academy Awards in Los Angeles, the United States, on Feb 28, 2016. [Photo/Xinhua]
Oscar-winning epic
The Revenant
will be screened in Chinese cinemas from March 18, according to the film's marketing company Linksus Legendary.
Directed by Mexican veteran Alejandro Gonzalez Inarritu, the film follows a frontiersman's journey of survival and revenge after being abandoned by his fellow fur trappers in the early 19th century in the Native American territory.
In addition to DiCaprio's win, the film also pocketed two Oscars, respectively for Inarritu's directing and Emmanuel Lubezki's cinematography, at the just-concluded 88th Academy Awards.
Related:
Leonardo DiCaprio wins best actor Oscar for 'The Revenant'