Italian chef from Naples brings a feast for the eyes to Shenzhen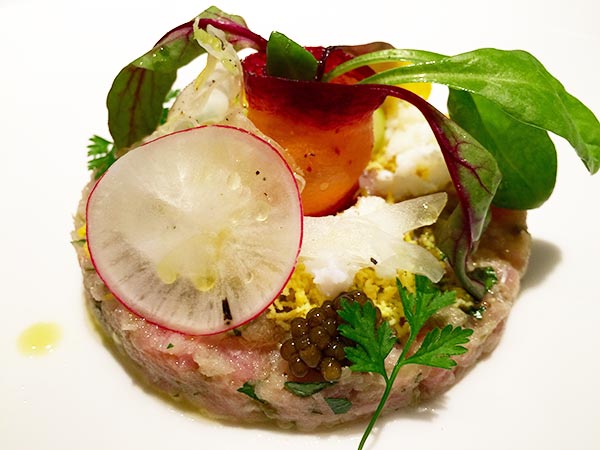 Tuna Tartare at Paletto Italian restaurant in Shenzhen. [Photo by Mike Peters/China Daily]
Some appreciate art through sight, while others savor it through taste, says chef Stefano Nicodemo, who seems determined to have it both ways. In his first year at Paletto Italian restaurant in Shenzhen, Nicodemo has showcased seasonal flavors from the south of Italy with a lot of flair.
Fresh octopus, white truffle and porcini mushrooms have been stars in his signature dishes of his native Naples. The chef's modern approach favors dishes that are "light yet richly defined," he says.
"The visual presentation of food is the art of modifying, processing, arranging or decorating it to enhance its aesthetic appeal. I often take the simple classics I grew up with and adapt or modernize them."
His focus starts with healthy ingredients as well as preserving and maximizing their natural qualities and flavors.
"I often use low-temperature cooking techniques as a way to retain their inherent nutritional value," says Nicodemo.
At a recent lunch, we start by digging into an artfully crafted tuna tartare, a colorful round of flaky fish, capers, cooked egg white, cooked egg yolk, caviar and baby vegetables that gleams thanks to a light application of olive oil. Next comes risotto Milanese, with a golden glow thanks to 17 minutes of cooking in saffron water, and veal osso buco, cooked for three hours in a 140-degree oven. The meat is sauced with beef stock enriched with bone marrow and herbs, and topped with a scattering of rosemary, thyme and lemon zest; meanwhile, the risotto bears delicate hints of parmesan, onion and garlic.