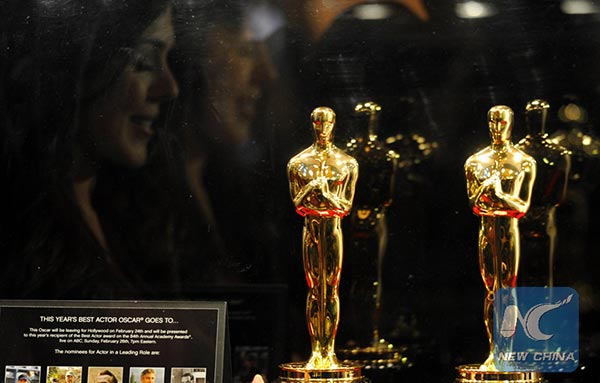 People look at the Oscar statuettes displayed at an exhibition held at Grand Central Station in New York, the United States, Feb 23, 2012. [Photo/Xinhua]
From the golden statuettes to the winners, here are the 10 things that you probably don't know about the oldest entertainment awards ceremony.
1.Officially named the Academy Award of Merit, the statuette is commonly known by its nickname "Oscar". While the origins of the moniker are not clear, the academy adopt the nickname officially in 1939, 10 years after the award was first presented.
2.The statuette stands 13.5 inches tall and weighs lbs. Since then, a total of 2,947 statuettes have been presented.
3.The statuettes presented at the initial ceremonies were gold-plated solid bronze. Within a few years the bronze was replaced by Britannia metal, a pewter-like alloy which is then plated in copper, nickel silver, and finally, 24 carat gold.
4.The first Academy Awards were presented in May, 1929 at the Hollywood Roosevelt Hotel. It was first televised in 1953, and now the event can be seen in more than 200 countries.
5.The youngest Oscar winner was Tatum O'Neal, who won Best Supporting Actress for "Paper Moon" in 1973 when she was 10 years old. The oldest winner is Christopher Plummer. He received the Best Supporting Actor at the age of 82 for his work in "Beginners" in 2010.