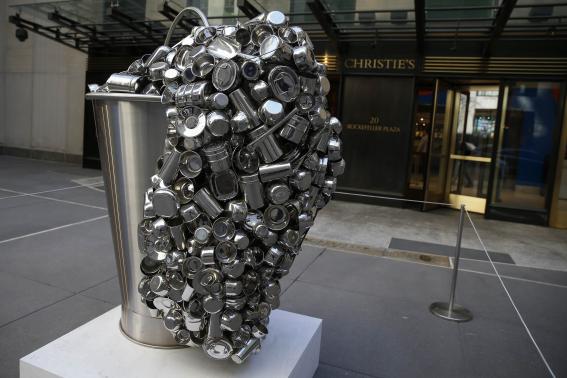 "Spill", a stainless steel vessel by Subodh Gupta is seen on display during "The Spring 2-14 Sales of Asian Art Week" media preview at Christie's Auction House in New York March 13, 2014. [Photo/Agencies]
Ancient ritual wine vessels, modern contemporary paintings and masterpieces representing Buddhism, Hinduism, Daoism and Shintoism are among the highlights of Asian art sales in New York next week.
The Asia Week auctions at Christie's and Sotheby's will feature thousands of items in a series of sales that could top $100 million. Last spring's auctions totaled more than $130 million in sales.
"We've got collectors coming from Chinese mainland, Hong Kong and India and Europe, of course," said Hugo Weihe, Christie's International director for Asian art.
Asia has become a dominant player in the global art market, particularly in post-war and contemporary art sales.
"I think one of the most wonderful and fascinating things about Asia Week is that it covers literally the whole of Asia," said Henry Howard-Sneyd, vice chairman of Asian art at Sotheby's.
"We offer art from predominantly China and from India, but of course we also have material from other parts of Asia as well," Howard-Sneyd said.
Weihe said in addition to the aesthetic appeal of the works, collectors view art as an alternative asset class.
"People see it as something beautiful you can live with, but it is also going to hold its value over time. And if you look historically the way prices have risen, it is a very good proposition," he explained.