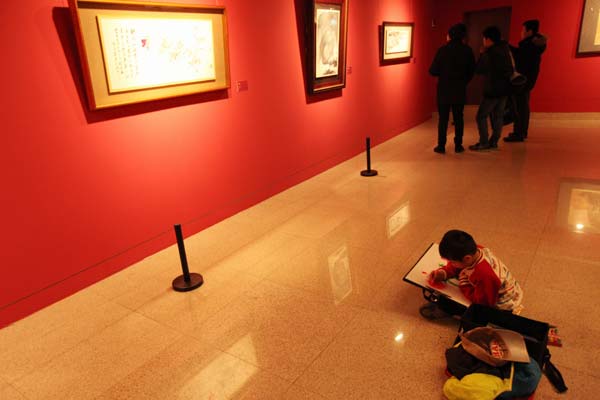 A boy counterdraws one of Zhang Daqian's works at the National Art Museum of China. Photo by Jiang Dong / China Daily
Mist Clearing Over Pine-covered Peaks, a splash-color work on show, was painted in 1969 when Zhang matured with the empowering pocai medium. It provides a glimpse of his virtuosity of controlling the flow of ink and colors on paper, and meanwhile exemplifies his sensibility to the Western art trends by assembling abstract expressionism elements with the Chinese art traditions.
"For decades Zhang journeyed to India, Brazil and the United States. He traveled extensively and in the process, he was influenced by the evolution of Western art and broadened his vision to revolutionize the ink art," Fan says.
"His experimental spirit has enlightened generations of Chinese artists."
Zhang was one of the few Chinese artists of profound international influence of his time. He held several solo exhibitions in the US, Japan, Singapore and Europe. His meeting with Picasso in Nice in 1956 was hailed "a summit" between two masters of Eastern and Western art and a memorable moment of the art exchanges between the East and West.
The works on display are from the collection at Taiwan Chan Liu Art Museum, a private institution that has been committed to the promotion of Zhang's art, and on loan from its mainland customers.
Its founder Huang Cheng-chih says the museum held a retrospective of Zhang's art in 2013, but many works that were on loan from its clients in Taiwan are not on show in Beijing. "Many of them fear that the long transportation will harm the works and also have security concerns," he says.
Chan Liu's important clients include Barry Lam, founder of the Taiwan-based manufacturer Quanta Computer. A fan of Zhang Da - qian, Lam possesses more than 200 of his works. He is believed to be the buyer of Aachensee Lake, Zhang's splash-color masterpiece that fetched 100.8 million yuan ($17 million) at China Guardian Auction's sale in 2010, and Lotus and Mandarin Ducks, which sold for a record HK$190 million ($25 million) at Sotheby's Hong Kong in 2011.
Meanwhile the market has been negatively impacted by a lot of counterfeits.
"That's why public fine art institutions and collectors should work together to make available more of Zhang's works to the public and improve people's tastes," says NAMOC's Fan.
IF YOU GO
9 am-5 pm, until March 3. National Art Museum of China, 1 Wusi Dajie (Street), Dongcheng district, Beijing. 010-6400-1476.