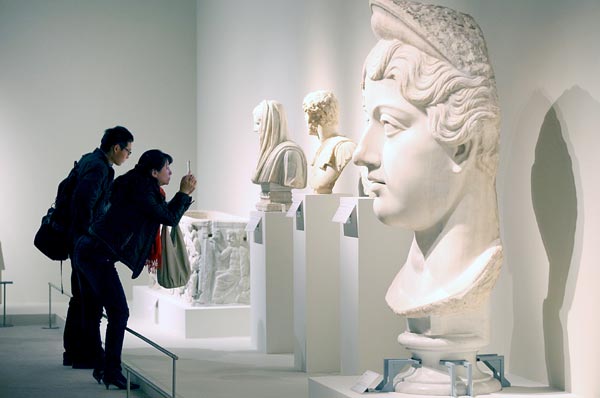 Visitors are attracted by the exhibition Mediterranean Civilization in the National Museum of China. Jiang Dong / China Daily
After two centuries standing at the Louvre, Diana de Gabies leaves France for the first time and greets viewers at a Chinese museum, as a warm-up to celebrate the establishment of diplomatic relations between the two countries five decades ago.
The Roman-era marble statue, also called The Sculpture of Artemis, portrays a gracefully standing Artemis, aka the Goddess of the Hunt, who is ready to buckle her cloak that is presented by her believers.
Dated back to about the first century, the statue is testimony to the Roman copy of Greek style. It was excavated in 1792 by the British history painter Gavin Hamilton (1723-98) at Gabii, Italy, and was later purchased by Napoleon, who then gave it to his brother-in-law Prince Camillo Borghese as a gift.
Artemis is placed right before Hamilton's oil painting which was drawn from the Greek mythology - Venus introduces Helen to Paris, a dangerous prelude to the Trojan War - and became part of the Louvre collection in 2011.
Together, they are sharing the stage at the National Museum of China with about 280 pieces and sets of antiquities from the Louvre's treasure trove to form the exhibition Mediterranean Civilization.
The exhibition marks the first cooperation between the Louvre and the National Museum of China. Meanwhile, according to Jean-Luc Martinez, president-director of the Musee du Louvre, it provides a chance to inspect the Louvre's collections from a different perspective.
"One of our duties at the Louvre is not only to showcase French art but also the world's diverse cultures," Martinez says.
"For example, the French royal collections (a major source of the Louvre's displays) boast Italian paintings and Greek and Roman sculptures. The most famous works at the Louvre come from the Mediterranean, a cradle of human civilization, and that's why we have come up with the theme of this exhibition."