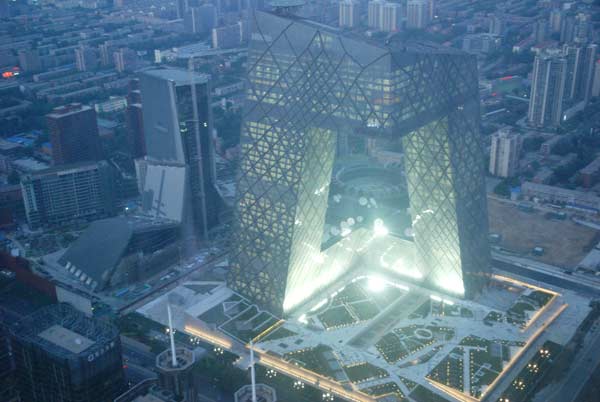 The CCTV Headquarters, dubbed "the big pants" because of its shape, is a landmark in the central business district area in Beijing. China Photo Press
An architect found that the amazing form of an iconic Beijing building shaped her own career after spending more than a decade as project manager for the CCTV Headquarters, she tells Sun Yuanqing.

The snow was falling thick and fast - by noon, about half a meter had accumulated on the ground. Yao Dongmei was packing to catch a flight from New York to Rotterdam that afternoon, but she knew it would be delayed.
"I sensed that the heavy snow was an omen for the heavy workload ahead," Yao says, recalling the day-Feb 17, 2003-a turning point in her career.
The woman behind the CCTV Headquarters, now a landmark in the CBD area in Beijing, Yao made one of the most controversial architectural designs become a reality after devoting 11 years reaching across cultures and languages as the project manager.
"Every architect has a dream of realizing his or her own design idea, but to have assisted and seen the architects from two worlds display their talents to the fullest extent has made me realize that this is more important than realizing my own dream," says Yao, 47.
Designed by OMA's RemKoolhaas and Ole Scheeren, the CCTV Headquarters was named the Best Tall Building Worldwide 2013 by the Council on Tall Buildings and Urban Habitat for its "unusual take on the skyscraper typology" last November.
However, few people know more about what it took to achieve than Yao.
Yao joined OMA's CCTV project as an architect in 2003 after OMA won the competition to design the building. Its local partner East China Architectural Design & Research Institute was involved in the early stages of schematic and extended preliminary design.