Technology helps Chinese designers make good progress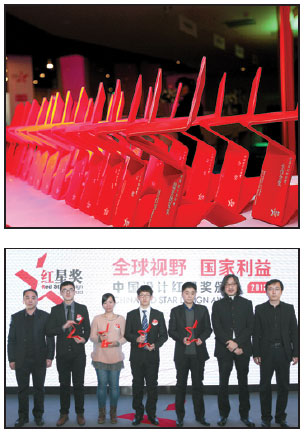 From top: Trophies of the 2013 China Red Star design award are lined up on a table before the awards ceremony. Some of the design award winners receive their prizes at the ceremony in Beijing. Photos Provided to China Daily
The new wave of high-end technology is having a significant impact on people's lives, and is providing new opportunities to Chinese designers, according to experts at the recent 2013 China Red Star design award.
Chen Dongliang, executive chairman of the award committee, says high-end technology along with changes in lifestyles put designers around the world on the same starting line.
Industrial design was an area previously dominated by Western countries.
"In terms of market scale, and with our number of designers and China's long history, we should build up our confidence in industrial design," Chen says.
Modeled after the prestigious German Red Dot design award, the 2013 China Red Star design award attracted a record number of applicants with more than 5,500 candidates from home and abroad, a significant increase from about 400 Chinese company candidates eight years ago when the design award was launched.
The 2013 Best of the Gold prize went to the inter-city high-speed train with a speed of 250 kilometers per hour designed by Tangshan Railway Vehicle Company. Chinese smartphone maker Xiaomi won two gold prizes for its Xiaomi TV box and its phone.
The potential of industrial design is huge. In 2012, design revenue in Beijing reached 120 billion yuan ($19.84 billion). In 2013, near half a million graduates majoring in design entered the job market, according to Chen, who has closely monitored the industry for decades.