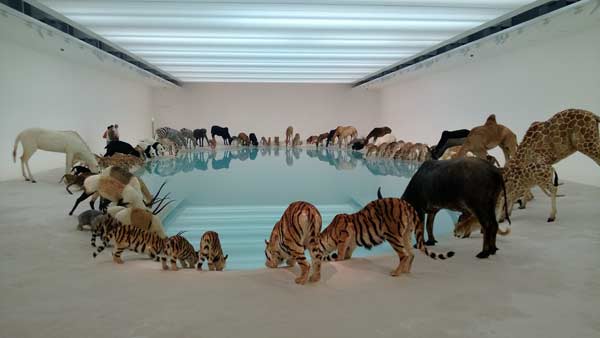 Heritage is the centerpiece of the exhibition. Photos by Ou Shuyi / China Daily
An artist with a sense of drama grasps the power of introspection for his current exhibition, Ou Shuyi reports from Brisbane.
Even without his usual gunpowder and explosions, artist Cai Guoqiang (Cai Guo-Qiang) still has the power to wow viewers with his poetic and serene installations in his first solo exhibition in Australia. Cai Guo-Qiang: Falling Back to Earth, which opened at the Queensland Art Gallery | Gallery of Modern Art in Brisbane in mid-November, shows the artist's shift toward a more grounded engagement. Cai's two commissioned installations, Heritage and Eucalyptus-both monumental in scale and with strong visual impact-feature motifs drawn from the natural world. "They represent my childlike innocence but also convey solemnity, confusion and reflection of the real world," explains Cai, who has painted the sky with gunpowder and flames in his signature art projects across the world.
Speaking in Mandarin with the strong accent of his native Fujian province, the New York-based artist looks fit and younger than his mid-50s, with a severe brush-cut of hair.
Though he has lived in the United States since 1995, Cai talks with the Western media mostly through his translator. With many of his works creating a dialogue between the East and the West, Cai says the language barrier has never been a problem for him.
The exhibition's centerpiece, the 1,100-square-meter Heritage, features 99 replicas of animals including pandas, tigers, bears, giraffes and kangaroos, lowering their heads to drink together from a water hole surrounded by white sand.
"This pristine environment embodies my perception of a 'last paradise', far from the cares and conflicts of the rest of the world, where people come from across the globe and share the same space," Cai says.
Yet, such a lyrical utopian vision is loaded with uncertainty, and there is something disquieting about the stillness.
If the room is quiet enough, visitors may be able to hear an incessant drip that breaks the surface of the water.
Related:
Cai Guoqiang has created a unique body of work over recent decades, characterized by the grandness of their scale and ambition. More...
Gunpowder drawing created for auction
Inspired by his hometown's past, as well as its present, Quanzhou artist Cai Guoqiang created a gunpowder drawing on paper on a live show in Shanghai. More...
Artist Cai Guoqiang's latest works reflect the beauty of West Lake in a series of gunpowder paintings. More...