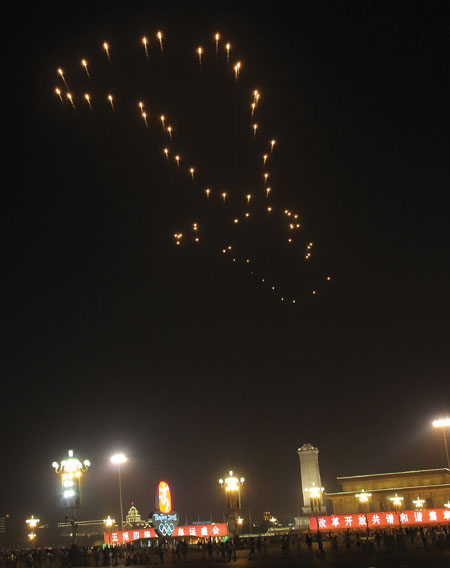 Cai Guoqiang's firework displays at the Beijing Olympics. Provided to China Daily
Cai Guoqiang has created a unique body of work over recent decades, characterized by the grandness of their scale and ambition. His installations, gunpowder drawings and "explosion events" have been presented around the world.
Born in 1957 in Quanzhou, Fujian province, he was trained in stage design at the Shanghai Theater Academy from 1981 to 1985.
He began his exploration in gunpowder drawings while living in Japan from 1986 to 1995. He has been based in New York since 1995.
He is best known for his firework displays at the 2008 Beijing Olympics' Opening and Closing ceremonies and his retrospective Cai Guo-Qiang: I Want to Believe at New York's Guggenheim Museum.
His recent projects included One Night Stand: Explosion Event for Nuit Blanche in Paris in October. His gunpowder drawing Homeland sold for 15 million yuan ($2.5 million) in Christie's auction in September.