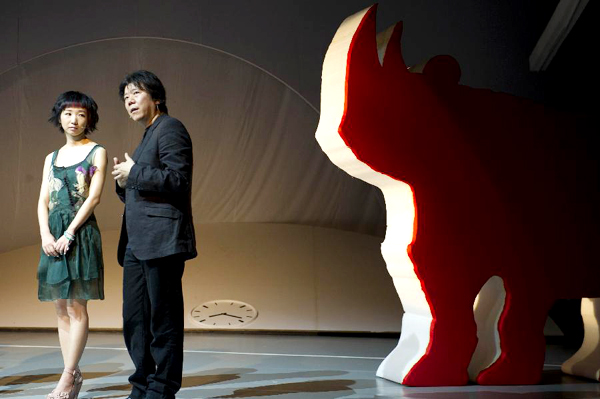 Director Meng Jinghui (R) and playwriter Liao Yimei attend a press conference of the drama "Rhinoceros in Love" in Beijing, capital of China, July 2, 2012. [Photo/Xinhua]
"Rhinoceros in Love" will be staged from Aug. 7 to 12 at Poly Theater in Beijing, marking a run that will include the play's commemorative thousandth performance.
Since its debut in 1999, five versions of the sad, romantic story have been performed in front of 368,000 people in 36 cities worldwide.
Hao Lei, who has been honored as the "queen of literary film" in China, will be the lead actress for this run, and Zhang Nianhua, who has acted in the play over 800 times, will assume the role of the male lead.
"Hao is like a flame who is erogenous but sentimental, and can break the set patterns when she is acting," said Meng Jinghui, the play's director.
"Rhinoceros in Love" shows the love story of a rhino feeder, Ma Lu, and his pretty neighbor Ming Ming. The rhinoceros with poor vision serves as a metaphor in the story, symbolizing those who are deeply in love and blinded by the sadness of unrequited love.