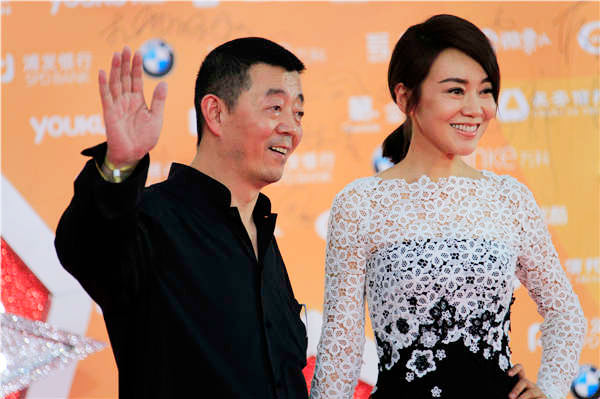 Director and cinematographer Gu Changwei and actress Yan Ni attend the closing ceremony of the Third Silk Road International Film Festival in Xi'an. [Photo by Huo Yan/China Daily]
But the Chinese western category has "fragmented", to use Xiao Yunru's words.
The cultural scholar noted that Shaanxi talents had been lured to bigger cities like Beijing and Shanghai and the Xi'an studio had to organize reunions in Beijing rather than in Xi'an.
"China's western region covers 12 province-level administrations, which encompass a plethora of geographical settings and subject matter."
In 2014, Xiao said he drove along the Silk Road to Rome and was impressed by "the opportunities history has again presented itself".
According to a 2015 study of Chinese films' international clout, done by the Beijing Normal University, kung fu films still constitute the most popular genre of Chinese cinema as perceived by people along the Belt and Road Initiative countries.
But other genres such as drama, comedy and documentary are also gaining favor.
This festival also saw special screenings and forums for participants from the Silk Road countries, including the Maritime Silk Road that went through Southeast Asia.
A mini-festival of 10 ASEAN nations was held to highlight the region's achievements on the big screen.
But the platform has to be market driven, say several experts, including Qi Yongfeng, a professor with Communication University of China.
And, it also has to stimulate tourism and other culture-related industries, says Jiao Hongfen, chairman of the China Film Group.
The festival is China's third international film festival, after Shanghai and Beijing.
The venue alternates between Xi'an and Fuzhou, which is the starting point for the Maritime Silk Road.
Huo Yan contributed to the story.