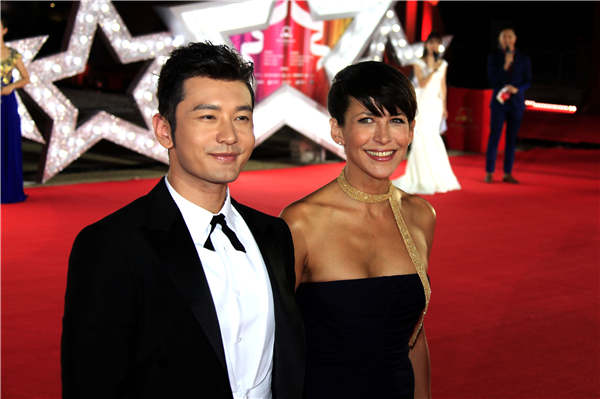 Actor Huang Xiaoming and French actress Sophie Marceau attend the closing ceremony of the Third Silk Road International Film Festival in Xi'an. [Photo by Huo Yan/China Daily]
'Western' influence
When Chinese talk about "Western films", they are not the Chinese equivalent of the Hollywood western.
Rather, they are referring to movies made in the 1980s by the Xi'an Film Studio, with stories set on the dusty plateau of Northwestern China.
Zhang Yimou's Red Sorghum, Chen Kaige's Yellow Earth and Wu Tianming's Old Well are some representatives of this category.
As a matter of fact, most of the masterpieces of the so-called "Fifth Generation" belong to this group of films.
Not only have these movies left an indelible imprint on the festival, but they are the pride of Xi'an, or Shaanxi province in general.
So, for the closing ceremony, Red Sorghum had a gathering of a dozen of its cast and crew, belting out the now famous drinking song while downing bowls of liquor.
Director Zhang, who could not participate, recalled the good old days in a video clip.
Wu Tianming, who as studio chief was the force behind the Fifth Generation and died two years ago, still cast a larger-than-life presence at the event.
Song of the Phoenix, his swan song, was a surprise hit early this year, and his heirs came to the stage at the closing ceremony and donated all the proceeds of the film to a foundation that nourishes young talents.
Huang Jianxin, who presided over this year's jury, is also a member of the Fifth Generation.
His works of dark humor, such as The Black Cannon Incident and Stand Straight, Don't Bend Over, were way before their time and are seeing their status in cinematic history grow over the years.