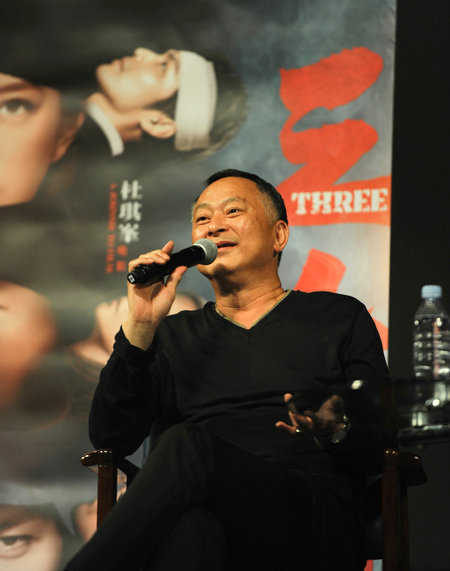 Johnnie To (right) says his new work, Three, is like an allegory covered by a crime genre. [Photo provided to China Daily]
The film has a stellar cast, including veteran actress Zhao Wei, Taiwan actor Wallace Chung and Hong Kong actor Louis Koo.
To's team built a "hospital" in Guangzhou, the capital of South China's Guangdong province.
He recruited several brain surgeons to teach Zhao, who plays the surgeon, how to conduct medical operations.
Chung recalls at a Beijing event that some of the machines on the set were real. But remembering complex medical procedures was not the only challenge for the actors and actresses-there was no script. Every morning before shooting, the actors and actresses found they were waiting for that day's script.
Scriptwriter Yau Nai-hoi says his work had been rejected many times even on the set.
To's habit is to let the nuance change on the set to decide which way the story would develop.
"I'm still learning filmmaking, so I want to explore every possible aspect," To says modestly.
Even as he faces mixed reviews, To has decided to bring Three up against Hollywood.
Its premiere date, June 24, clashes with two Hollywood big movies-Independence Day: Resurgence and Now You See Me 2.
According to iQiyi Motion Pictures, the distribution company for Three, competing with Hollywood may not be all that difficult as To is popular and so are cast members of the movie.