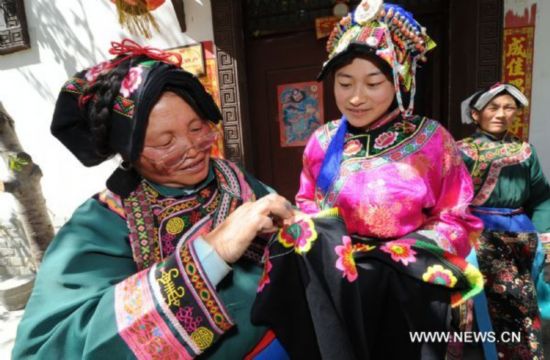 An aged woman of the Qiang ethnic group instructs embroidery skills in Muka village of Lixian county, Southwest China's Sichuan province, April 15, 2011. The embroidery of the Qiang ethnic group has been listed as one of the national intangible cultural heritages. [Photo/Xinhua]
China will increase the allowance given to practitioners of intangible heritage, as many practices are in danger of dying out, according to the Ministry of Culture (MOC) on Wednesday.
Allowances have been given to iconic figures of national-level intangible heritage practices since 2008. The allowance will be raised to 20,000 yuan (3,088 U.S. dollars) per person per year from the current 10,000, according to the MOC. It started at 8,000 yuan in 2008.
The allowance is designed to support pedagogic activities, and is not a living allowance.
Ma Shengde, an MOC official, said the increase would encourage leading figures to pass on their skills.
According to official figures, 295 out of 1,986 practitioners of national-level intangible heritage have passed away.
To prevent the practices from being forgotten, the MOC also started to collect detailed records of the practices and their leading practitioners.
Intangible heritage includes traditional rituals, verbal literatures and art forms, among others. Acrobatics, for example, is a typical Chinese intangible heritage.