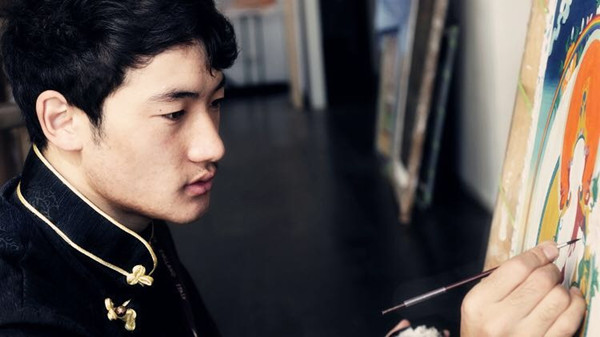 Young artist Sonam Dawa paints a thangka piece.[Photo provided to China Daily]
Thangka art, a traditional Buddhist painting form on cotton or silk done by Tibetans, is now being conserved in the virtual world.
A digital project by Baidu Baike, China's largest Web-based encyclopedia, went online earlier this month, aiming to protect this craftsmanship, which was designated as a national intangible cultural heritage form in 2006.
The 30-odd pieces of thangka works that have been digitally conserved include a gigapixel image of White Tara, depicting a Buddhist goddess.
The White Tara piece online comprises more than 100 high-definition photos to make sure each detail can be clearly seen.
"Digitization is necessary to preserve thangka art on scrolls, as slight abrasion is inevitable each time you unroll the pieces," says Liang Jing, 35, a collector and exhibition curator, who owns the original art.
"Also, as the paintings are not covered, the dust in the atmosphere affects them. Digitization, however, can capture the art perfectly and it is easier for the younger generation to experience it," she says.
Baidu Baike launched its intangible cultural heritage protection database in November 2015, to attract wider public attention to the heritage and to preserve it.
The nonprofit program is using multimedia channels to make a record of traditional lifestyles that are gradually fading away.
According to Jin Xiaping, the supervisor of the project, about 1,000 examples of intangible cultural heritage have been included in the project to make the encyclopedia more extensive.
For instance, for the entry on "shadow play", the website worked with artisans to shoot panoramic videos.
The website plans to highlight one example of intangible cultural heritage each month, and thangka is in focus for March.
Liang says many reputed institutions will soon be made part of the project to ensure the accuracy of the material preserved.
Besides preserving the traditional heritage, Liang says "traditional art forms must also catch up with the times we live in.
"Thangka, for example, is no longer only about religious themes. So it is only through innovation that it can be better promoted today.