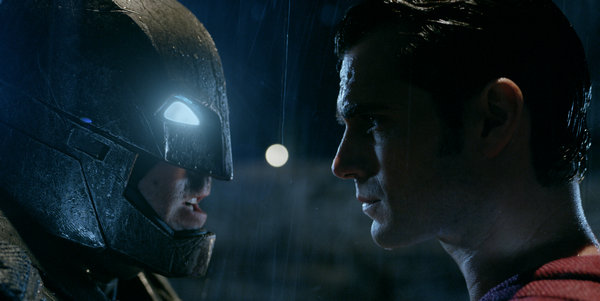 [Photo provided to China Daily]
If Batman v Superman does well in China, DC Comics would throw a challenge at Marvel in the world's second-largest movie market, Xu Fan reports.
Even for Chinese who aren't familiar with DC Comics or the American superhero characters they bring to the world, the movie Batman v Superman: Dawn of Justice would be charming.
The cinematic adaptation, involving two of DC's most famous characters in its 80-year history, will debut on the Chinese mainland on Friday. It premiered in the United States on Sunday.
The title straightforwardly tells the story.
Concerned that Superman's unchecked powers may become a threat to the world, Batman, the billionaire crime-fighter from fictional Gotham City, prepares to confront Earth's protector, whose day job is that of a reporter. But in the end they instead join forces to fight Superman's arch enemy, Lex Luthor.
American actor Ben Affleck, known for his Oscar-winning political thriller Argo, plays Batman, while British actor Henry Cavill, whose Man of Steel (2013) is to date the highest-grossing Superman film, reprises his role as the ex-Krypton (fictional planet) being. The movie also raises the question of who is the bigger superhero.
In China, the question extends to DC and its main competitor Marvel Comics, another creator of superhero characters in the United States.
China became the world's second-largest movie market after the US in 2012, replacing Japan.
The Avengers movie, based on the Marvel series of the same name, was also that year's top blockbuster in China.
In 2015, the sequel, Avengers: Age of Ultron, followed Hollywood's action-packed Fast and Furious 7 to become the second highest-grossing foreign film on the mainland. It helped China's box-office profit climb 48 percent from the year before.
Lagging behind Marvel, DC is now seen as setting its hopes of capturing the Chinese market on Batman v Superman.
So promotional activities for the movie in China have been upscale.