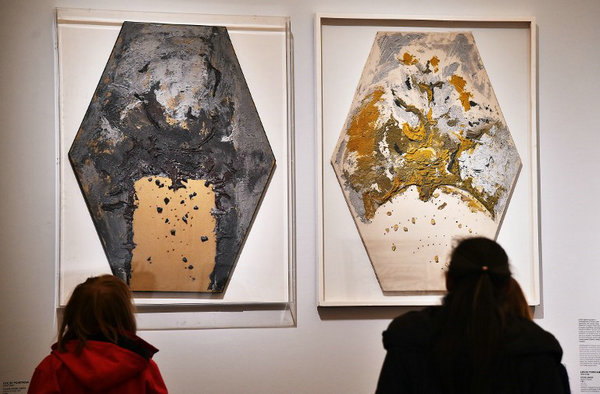 Works by Italian painter Lucio Fontana are on display at the show The Art of the Guggenheim Collections in Florence.[Photo provided to China Daily]
From Wassily Kandinsky to Jackson Pollock, the extraordinary impact collectors Peggy and Solomon Guggenheim had on 20th-century art is celebrated by an exhibition that opened in Florence on Saturday.
The exhibition, The Art of the Guggenheim Collections, which runs in the Tuscan city's Palazzo Strozzi through July 24, explores how bohemian socialite Peggy, her uncle Solomon and the celebrated New York museum he established influenced European and American art from the 1920s to the '60s.
Curated by Luca Massimo Barbero, it features paintings, sculptures, photographs and engravings borrowed from the Guggenheim museums in New York and Venice and a small number of other museums and private collections.
"Peggy Guggenheim (1898-1979) did not just buy works, she bet on young artists and supported them thanks to an incredible artistic instinct and curiosity," Barbero says. "She was so sure of her own taste. She never compromised."
The fruit of those instincts was the acquisition of works by an extraordinary list of artists: Kandinsky, Marcel Duchamp, Max Ernst (to whom Peggy was married from 1941-46), Mark Rothko, Pollock and Alexander Calder, to name just a selection.
As a result, the Florence exhibition is able to offer a rare opportunity to view some seminal works of pre-World War II modern art, including pieces by Ernst, Man Ray and Pablo Picasso, alongside illustrations of the divergent postwar trends on either side of the Atlantic.
It also tells the story of Peggy Guggenheim's arrival in Europe in 1921, her return to the United States during World War II and her decision to finally base herself and her collection in Venice from 1949.