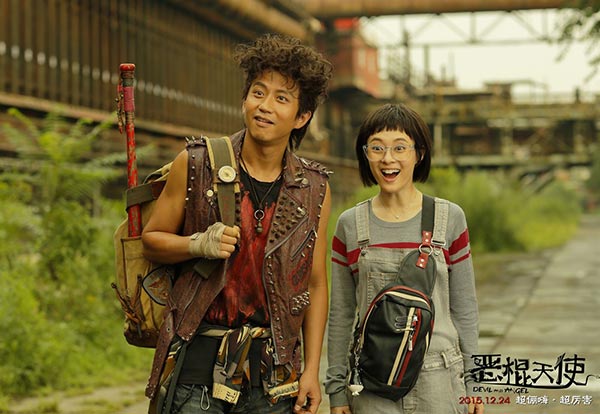 A scene from Devil and Angel. [Photo/Mtime]
This year's "Golden Broom Awards", China's equivalent of Golden Raspberry Awards have been handed out.
Comedy Devil and Angel has won a Broom for most disappointing movie, and actor Deng Chao was named as the most disappointing actor for his role in the movie.
Devil and Angel, which is co-directed by Deng Chao and Yu Baimei has also earned Yu Baimei a Broom for most disappointing scriptwriter.
Meanwhile, actress Yang Mi has won a Broom for most disappointing actress for her roles in Tiny Times 4: Soul's End and Silent Separation.
This is Yang's third Broom for worst actress. She was the winner of the same award in 2013 and 2015.
The most disappointing director Broom is shared by He Jiong for his work on Forever Young and brother director duo Wei Nan and Wei Min for their work on On My God.
However, no winner has showed up this year to receive the awards.
The winners of China's Golden Broom Awards are selected by on-line voting as well as judgment by professionals.
The Awards were first handed out in 2009.
Related:
Ip Man 3 distributor suspended for box office fraud