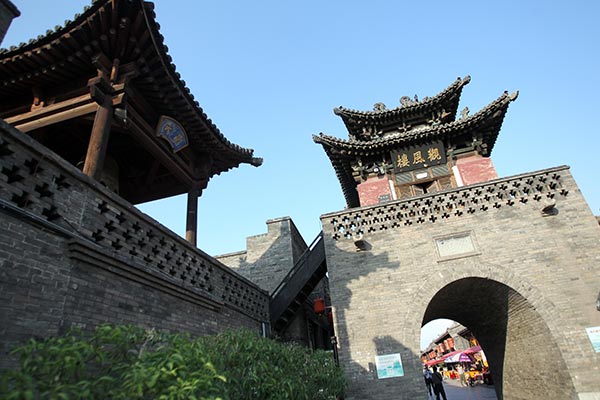 The old government office, an iconic building in Pingyao, Shanxi province, presents the Chinese aesthetics and the officialdom culture. [Photo by Zhang Wei/China Daily]
The ancient city of Pingyao in Shanxi province is one of the best places to savor China's past and see well-preserved old city walls and traditional Chinese architecture.
It feels exciting to stroll on the streets lined with houses built of grey bricks and tiles that have survived wars and natural disasters.
It is not as commercial as other ancient Chinese cities and you can see history everywhere. The ancient city lets you immerse yourself in its history.
Its iconic yamen-a government office in feudal China-is one of the few well-preserved yamen left. It's a place where the county magistrate lived and dealt with government affairs. The large complex showcases the culture of officialdom then and the county magistrate's daily life.
Outside the gate of the yamen is the Declaration Pavilion. It's a place where a venerable old man voted by the locals would mediate in civil disputes such as fights and land disputes. If the issue still remained unresolved, then the county magistrate would accept the case.
Zhu Yuanzhang, the first emperor of the Ming Dynasty (1368-1644), ordered regional governments to build such pavilions, to relieve county magistrates from trivialities so they could have more energy to deal with important matters.
Stepping beyond the gate, you will see a prison in the left yard, the only remaining prison from the Qing Dynasty (1644-1911) in China.
There are also exhibitions of official documents and various instruments used to torture and execute criminals in ancient China in other yards.