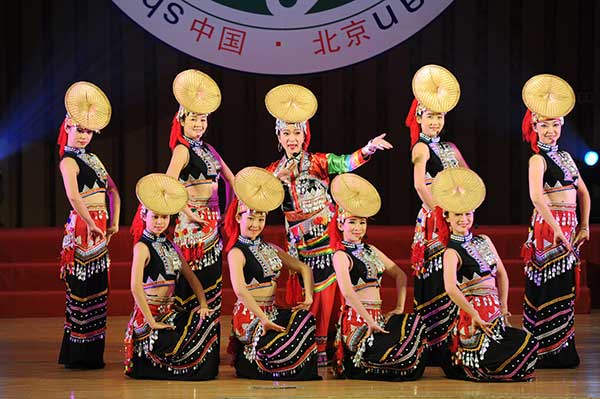 A dance performance of Dai people at the China Ethnic Groups Arts Festival in Beijing.[Photo provided to China Daily]
Traditional cultural activities of different ethnic groups in China, including the Yi people's celebrations when they chase field pests with torches, the khoomei singing among the Mongolians and antiphonal chanting of the Miao people, are all part of the ongoing Fourth China Ethnic Groups Arts Festival.
Hundreds of singers and dancers from nearly a dozen ethnic groups are performing shows in Beijing through Monday. The festival began on Oct 12.
According to festival director Yang Chengzhi, the shows enable audiences to better understand people from the country's many ethnicities.
"Chinese ethnic groups are known for their vibrant music and dances, which have been passed down for generations," Yang said during the festival's opening at the Forbidden City Concert Hall.
"It is a rare chance for people in big cities to enjoy authentic ethnic arts."
The singing and Dancing Troupe of Yanbian from Jilin province will bring the curtains down on the festival with Chunxiangzhuan (Story of Chunxiang), which is a traditional Korean oral art form, called changju. In this presentation, the actors and actresses are accompanied by a narrator and a drummer onstage.
The traditional Huadeng Opera, Zhuomei and A Luo, which was produced by Huadeng Opera Troupe of Yuxi from Southwest China's Yunnan province, opened the festival.