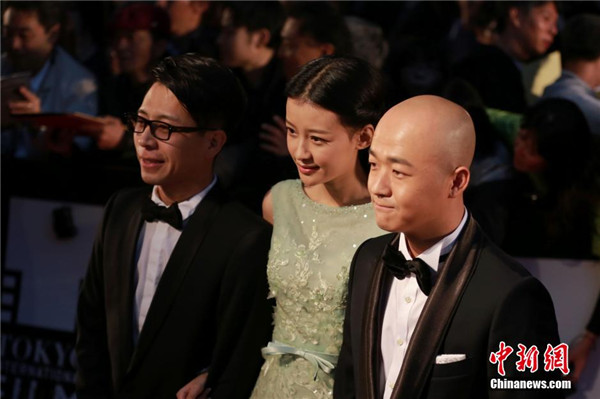 From left to right, director Hao Jie, actress Sun Yi and actor Bao Beier in My Original Dream.[Photo/Chinanews]
A Chinese movie is looking to scoop the biggest prize at this year's Tokyo International Film Festival (TIFF) which opened on Thursday.
My Original Dream, which in director Hao Jie's words is intended to "relive ordinary man's adolescent years", tells the story of Zhao Shanshan - a youth in the 80s China - who comes all the way from a small town to Beijing to pursue a career in the film industry.
Competing against 15 other entries for the Grand Prix, My Original Dream is not the only film vying for honors in this year's TIFF. As reported by Xinhua News Agency, Gold Horse Prize nominee Xiang Guoqiang's film Young Love Lost is also in the race in the Asian Future section for the final prize.
From Oct 22 to Oct 28, 10 films from China will be featured during the "Chinese Film Week", including Silent Separation, Monster Hunt, Fleet of Time, etc.
TIFF was established in 1985 as Japan's first major film festival. Now, it is one of the biggest movie events in Asia.