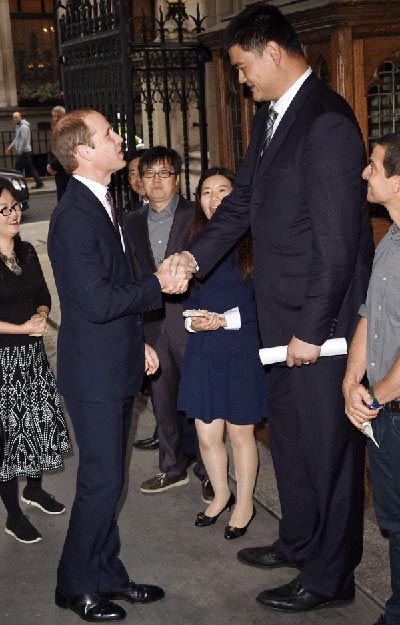 Britain's Prince William meets retired Chinese basketball player Yao Ming and explorer Bear Grylls before delivering a speech on the illegal wildlife trade for China Central Television, at King's College, in London, on Monday. STUART C. WILSON/AP
In a message carried on China Central Television on Monday, Prince William told Chinese people not to buy ivory or any other illegal animal products, as part of a campaign to end the trade in ivory.
"In the 33 years since I was born, we have lost around 70 percent of Africa's elephant population. Of those that are left, 20,000 are being killed every year-that is 54 elephants killed every single day," Prince William said.
"At this rate, children born this year, like my daughter Charlotte, will see the last wild elephants and rhinos die before their 25th birthdays."
Posters of Prince William can be seen in Beijing subway stations-sometimes standing side by side with China's former basketball star Yao Ming-promoting the idea that without the trade in ivory, the killing of wildlife will stop.
Li Yonghui, director of the international relations department at Beijing Foreign Studies University, said Prince William's call for a ban on the trade of ivory is "a very smart move", as it will help boost the overall image of the UK, the royal family, and especially the prince himself.
"For China, this is also a great opportunity to borrow the influence of Prince William and the British royal family to push forward wildlife protection domestically," Li added.
Ding Chun, director of the Center for European Studies of Fudan University, said the fact that Prince William is willing and able to go on the air on China Central Television, China's equivalent of the BBC, while President Xi Jinping is paying a state visit, is an indication of how much bilateral relations have improved.
"Prince William, with his media exposure and positive image, will be able to play an unparalleled role in not just wildlife protection, but also the entire people-to-people exchange sector, which is becoming a highlight of bilateral cooperation," Ding said.
"I am absolutely convinced that China can become a global leader in the protection of wildlife," Prince William said. "Your influence in the world means you can change the face of conservation in this century."
In February, China announced a one-year ban on the import of African ivory carvings, days ahead of Prince William's royal visit to Beijing in March, during which he urged for an end to the ivory trade.
AFP contributed to this story.
Related:
Peng visits Fortismere School in London