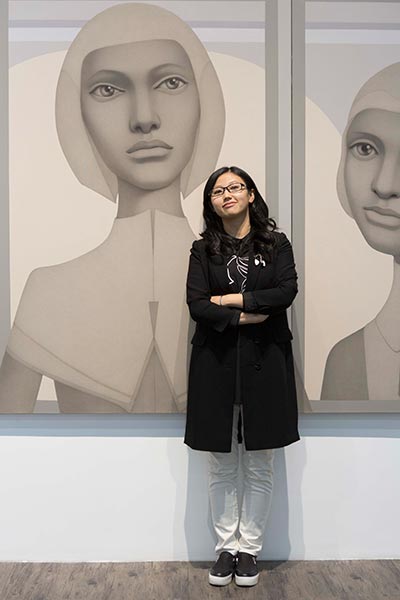 Fan Yourong. [Photo provided to China Daily]
Kunming-based artist Fan Yourong is showing two series of oil paintings, Girl and Out of the Corner of Eyes, at her solo exhibition titled Contextual Soliloquy.
In the Girl series, the woman painter, a graduate of the Sichuan Fine Arts Institute, portrayed similar looking female figures who have big crystal eyes, full lips and look like the subjects of classical icon paintings. Behind their expressionless faces Fan attempts to reflect the sensitive sides of metropolitan women's mentality.
She turns the focus to sidewalk landscapes in Out of the Corner of Eyes. She depicted the construction sites, buildings and trees, which people often see through car windows while driving but do not really notice. She draws people's attention to these inconspicuous views, underlying which are emerging problems of urbanization and an enlarging gap between different social groups.
The exhibition is ongoing at the Parkview Green Art gallery in Beijing's 798 Art Zone until Nov 30.
Related:
French artist adds color to China's countryside