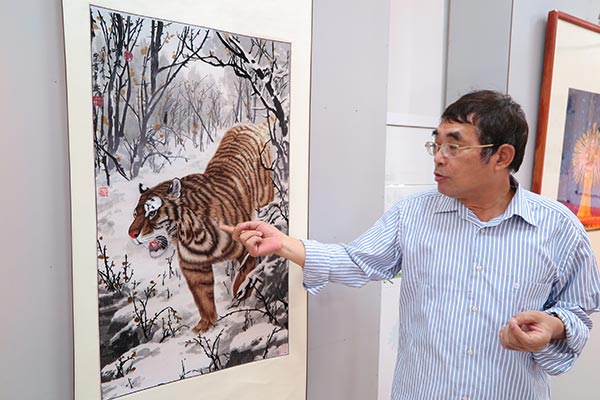 Gu Yuchun shows an embroidery piece on rice paper at his studio in Nanchang, Jiangxi province. [Photo by Shi Xiaofeng/China Daily]
A three-storied house in a narrow lane in downtown Nanchang, the capital of Jiangxi province, appears to be a museum with a large-scale exhibition going on.
Lots of traditional Chinese calligraphy and ink paintings are seen in showcases there as well as on the walls.
However, the Chinese calligraphy and ink paintings are embroidery on rice paper created by Gu Yuchun and his apprentices, who spend most of their day on needlework on the ground floor of the building.
Though embroidery is typically done on fabrics such as silk, they use rice paper.
Gu, 61, the inventor of this technique, has spent more than 30 years exploring materials and techniques for the craft.
Historical records show that members of the Gu family had for centuries been engaged in an early form of "paper embroidery".
The art form, which originated in the family, was initially associated with the offering of sacrifices.
Gu, who was then in his early 30s, took up the challenge to revive the craft after his father urged him to take up the tradition.
"I took up it as a mission to promote the craft and pass it down," he says.
"As part of our traditional culture, it has unique value."
Gu began with 400,000 yuan ($63,000), which he raised by mortgaging his house and borrowing from his relatives.
It took him five years to develop the ideal rice paper for embroidery. He visited rice paper factories in neighboring Anhui province many times to find the right type of paper, which should be both strong and thin enough.
"The early batches of paper were as thick as fingertip. Now, the paper is as thin as a cicada's wing," Gu says.
After numerous experiments, he introduced new techniques and materials into the craft.