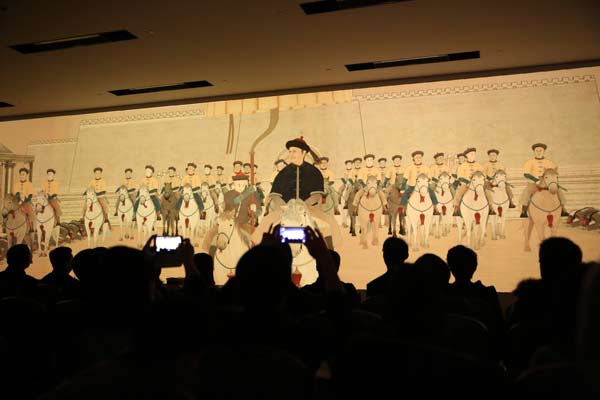 Visitors in front of the digitized first scroll of the Emperor Qianlong's Southern Inspection Tour series of paintings. Photo by Jiang Dong/China Daily
The National Museum of China is now showing an animated movie based on an ancient painting that depicts scenes from a Chinese emperor's grand visit to a part of his kingdom.
The 14-minute movie was derived from the first scroll of the Emperor Qianlong's Southern Inspection Tour, part of an epic series of paintings that has been housed in the museum since 1959, and traces the emperor's departure from Beijing for his trip to South China. It also allows visitors glimpses of Qing Dynasty (1644-1911) glory.
The original series is composed of 12 paintings from the time, and was earlier placed at the National Museum of Chinese History, which was later merged into the NMC.
Scroll One: Departing Beijing The Royal Capital displays Qianlong's lavish entourage leaving the Forbidden City for the royal retreat. It is projected on a 30-meter-long and 4-meter-high screen at the museum's hall for digital displays, and is placed along with imitation paintings of the original work and with Scroll Six: Entering Suzhou along the Grand Canal.
The suite of Emperor Qianlong's Southern Inspection Tour includes 12 scrolls chronicling his first inspection of the southern part in 1751. It measures a total length of 154 meters.
Qianlong went on the trip to fulfill his filial duty accompanying his mother who wanted to travel to the picturesque locations. Also he emulated his grandfather, Emperor Kangxi, who made several southern inspections. The travel over 112 days, along the Beijing-Hangzhou Grand Canal, covered more than 2,900 kilometers.
The emperor, himself a poet, composed more than 520 poems during the tour. He commissioned his court painter Xu Yang to visualize 12 pieces from them.