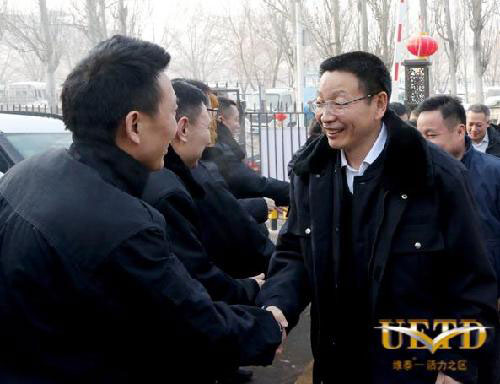 Xue Jihai (R), secretary of the Party's Toutunhe district committee, Urumqi, shakes hands with workers from the Nancaimen community of the Zhongyan South Road Sub-district office on Feb 8, the first day of the Lunar New Year. [Photo/uetd.org.cn]

Government officials can improve how they are perceived by publicizing their work better and interacting more with common people, claims a survey.
Central government officials have a better image than those at provincial and county levels, according to a survey published on Sunday.
They are perceived better because they are usually quick to respond to people's demands, a view that is held by many respondents, the Global Times newspaper said quoting Zhang Jiehai, the lead researcher of the study and a professor at Shanghai Academy of Social Sciences.
The online survey in Shanghai laid out eight indicators to measure people's perception of officials. Central government officials score higher when it comes to "inside" perception and officials at all levels score similar for "outside" perception.
Zhang said officials scoring high for "inside" performance means that they have done a lot of work, but did not publicize their work. This shows there is a need to highlight the work and improve people's perception.
"Some officials have been photographed using public transport or buying grocery at supermarkets, but some people claim the officials do all this just to hype up their image," Zhang said. "But I do not agree with this view."
Unlike Western countries, where projecting people-friendly image has gone too far, Chinese officials are still learning the importance of perception.
Chinese officials should show their friendly images, and the media and the public should encourage them, he said. Zhang also suggested that friendly images should be an indicator to assess officials' performance.
The survey also shows that Chinese prefer officials answering common people's questions and dislike such acts as wearing sunglasses to appear cool, something Western officials often do.
Officials will have positive image in young people's eyes if they have meals with mine workers and migrant workers, talk with common people face to face and participate in tree-planting activities, according to answers from 100 college students in the survey.
Zhang said the responses show that young people do not like the Western-style of personal shows, but they welcome officials in activities that relate to people's life.