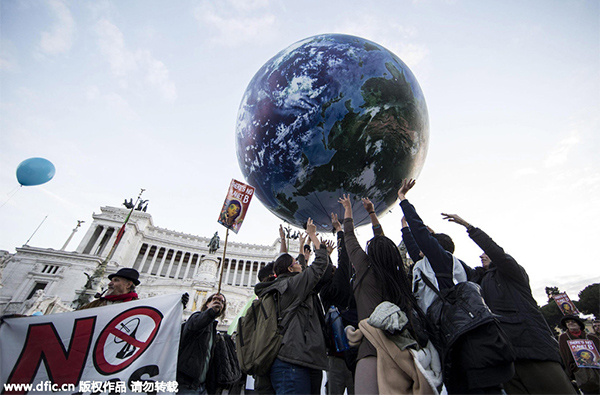 People rally to promote climate protection in Rome, Italy, Nov 29, 2015. [Photo/IC]
The most meaningful "high ambition" in the Paris Climate Change Conference is to ensure a comprehensive, balanced and pragmatic agreement can be reached in the coming hours as delegates prepare to stay one day after the official end of the gathering, Chinese officials said on Friday.
President Xi Jinping spoke on Friday by phone with US President Barack Obama to discuss a number of issues, including the ongoing climate negotiations.
Xi said China and the US should increase their coordination and make joint efforts to reach a climate change agreement that benefits the international community.
On the eve of the new scheduled close of the climate negotiations, countries should focus on consensus and ensure an agreement is reached in a "pragmatic and cooperative" way, Foreign Ministry spokeswoman Hua Chunying said at a news conference in Beijing on Friday.
Not being a part of the coalition of "high ambition" doesn't mean China has less ambition in advancing the United Nations climate change talks toward as successful Paris outcome, she said.
Hua was referring to the emergence in Paris on Wednesday of a new group called the coalition of high ambition, which claimed to represent more than 90 countries. Later, the European Union and the United States announced they were joining the group.
"China is as ambitious as other parties in advancing Paris toward building an ambitious global mechanism for addressing climate change, and there is no issue of who has been excluded," Hua said.
The group demands that the final deal recognize the proposed 1.5 C cap on the average global temperature rise from the preindustrial era, a more ambitious goal than the previous 2 C goal set at the Copenhagen Climate conference in 2009.
Key divergences remained in the negotiating text put on table late on Thursday.